There was no place like Hank Dietle's Tavern.
The beloved dive bar in Rockville, Maryland, was destroyed in a fire early Wednesday, breaking the hearts of musicians and bargoers who visited for decades.
A passerby called 911 to report a fire at the business on Rockville Pike about 2 a.m. The blaze is believed to have started on the front porch and spread through the inside of the building, filling it with smoke and flames.
Photos shows smoke pouring out of the bar and the plastic "Hank Dietle's Cold Beer" sign melted.
Historic Rockland Bar Hank Dietle's Destroyed in Fire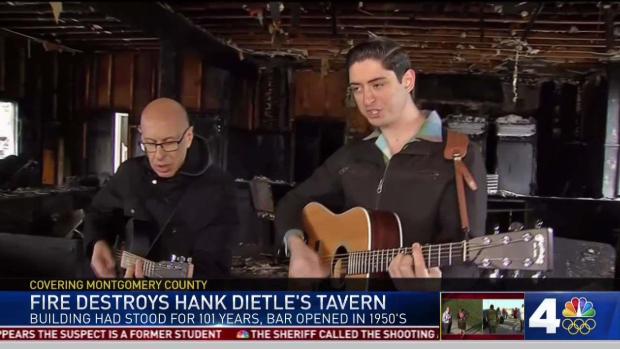 No injuries were reported, but the historic building suffered significant damage.
Many people visited the bar Wednesday to leave flowers and share memories.
Standing in the charred remains of the 101-year-old roadhouse, musician Willie Barry paid his respects.
"It's really devastating to see," he said.
Barry said he loved to play at Hank Dietle's with his band, The Rock-A-Sonics.
"It's a place I loved to play because I knew the audience was on my side, and it was also a place where I liked to go on a Saturday night because I knew friends would be there, like you," David Goodfriend, a guitarist for Goin' Goin' Gone said to News4's Mark Segraves. "I knew there would be a lot of good friends there, and I also knew the bands would be great."
One of Montgomery Co.'s Oldest Bar Destroyed in Fire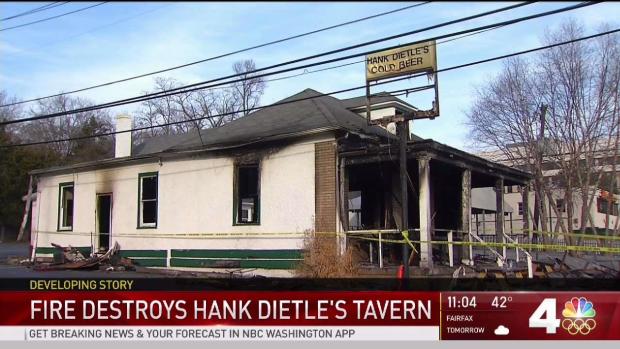 While the bar was a home for local musicians, it's where others made their living.
"It's like I've lost my life. My friends, my job," bartender Marsha Thompson said through tears.
Barry pointed to the words of an old song, "Rhythm Hall," to describe how he felt.
"The folks that come to Rhythm Hall, they don't care about your means, they just wear checkered shirts and jeans and they come to lose the blues," he cited.
"And that's really what Hank Dietle's was," he continued.
During the week, live bands rocked the bar as countless games of pool were played.
"This is a blow to the music business, especially local bands around here," customer Guz Alzona said.
Fire officials believe a cigarette left in a flower pot on the wooden front porch started the blaze.
Tony Huniak, the owner of the bar, said the weight of this loss is just too much to bear.
Hank Dietle opened the tavern in the 1950s, but the building it was housed in dates back to 1916, the restaurant's website says. In the 1990s, Huniak took ownership of the bar. The bar is one of the oldest bar in the county, holding a beer and wine license numbered 001.
"I had been coming here off and on for years, and I wanted to keep it going," Huniak said.
Huniak says the future of the bar is unclear because he's not the land owner.
"I would like to rebuild, but just wait and see," he said.
But fans hope Hank Dietle's can make a comeback.
"If he does decide to rebuild, the community would be behind him 100 percent. They would support him," said customer Ed Quinones.
Musicians who've performed at the landmark set up a GoFundMe page to benefit staff who are now out of work. It will also help cover costs of restoring the business that aren't covered by insurance.