The report of an active shooter at Walter Reed National Military Medical Center was a false alarm, according to federal officials.
A tenant command was planning a future drill when someone sent an alert by accident without using the words "exercise" or "drill."
The Navy previously tweeted that the alert was a drill.
CONFIRMED: No active shooter at Naval Support Activity Bethesda. Was ad hoc drill by tenant command. https://t.co/P9N65mMdOA

— U.S. Navy (@USNavy) November 27, 2018
Montgomery County police said they responded to a report of an active shooter at Walter Reed about 2:25 p.m. Their response was real, as if the report was valid.
Police said it is common practice for places like Walter Reed to notify them about planned drills. Police were not notified in this situation.
Inside Walter Reed right now after the active shooter announcement. Was looking on Twitter for news and it's filled with people questioning the safety of their loved ones. Building 19 in lockdown. Haven't heard any shots. Multiple agencies responding. Hopefully false alarm. pic.twitter.com/xNDKyEuN56

— Lindsey Migliore, DO (@DrMigliore) November 27, 2018
NSA Bethesda spokesman Jeremy Brooks told the Associated Press that the incident "was an accident. It was not something that was planned."
"It was a genuine false alarm and not intended to cause any harm," Brooks said.
An official at Walter Reed told NBC News the alert about an active shooter in the basement of Building 19, the America Building, went out about 2:20 p.m. First responders cleared the basement and found no shooter. They cleared the rest of the building out of an abundance of caution.
People sheltered in place during the police response.
U.S. Rep. Dutch Ruppersberger (D-Md.) tweeted he was at Walter Reed and was told there was an active shooter. He said he was safe in a conference room.
I am currently at Walter Reed Medical in Bethesda where we've been told there is an active shooter. I am currently safe in a conference room w/ approx 40 others.

— Dutch Ruppersberger (@Call_Me_Dutch) November 27, 2018
He said he and the people in the room with him believed it was a real situation.
"I was just getting ready to leave, and the people were herding individuals who were walking in the hallways into a back room," Ruppersberger said. "There were about 40 of us in there, and all we knew, about every 20 minutes, was active shooter, security on the scene. What I found out later is there saying it's now a drill. I'm very much concerned about that. A lot of people in the room were upset. There was a woman next to me who was crying because she couldn't pick up her daughter from school and she couldn't get a hold of her husband or anyone."
He said he is going to launch an investigation into why it lasted so long.
Someone at Walter Reed Thought There Was a Real Active Shooter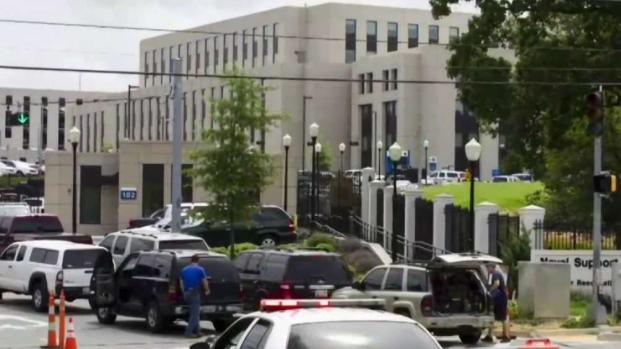 Katherine Bomkamp, her Marine husband and her daughter were in a crowded room with children. She said the door didn't lock, so her husband and another man held it shut, protecting those inside.
"We were absolutely terrified at that point, and then knowing that one of the doors was an easy access point was just unbelievably frightening," Bomkamp said.
Police closed Wisconsin Avenue near the entrance to the complex and diverted traffic away from the area. Wisconsin Avenue reopened about 3:30 p.m.
Building 19 houses the main pharmacy and many clinics.
Walter Reed is the nation's largest military hospital. There are more than 7,000 employees on the 243-acre campus, which takes more a million patients per year.
There have been similar scares in the area in recent years.
In 2015, someone reported hearing a gunshot at Walter Reed, triggering a text alert for employees and patients to shelter in place, but nothing was found after a search of more than three hours.
In 2016, an active shooter exercise was about to happen at Joint Base Andrews, but an actual shooting was miscommunicated before the exercise started.
In 2015, there were reports of shots fired at the Washington Navy Yard, but it turned out to be a false alarm. It was reported in the same building where a gunman murdered 12 people during a mass shooting in 2013.