A Fairfax County jury found a former church official guilty of assault Tuesday in a road rage confrontation that led to another man's death.
Lee Cena, a former education director at St. Leo the Great Catholic Church, was charged with misdemeanor assault and battery. The jury found him guilty of assault, but not assault and battery.
The assault charge carries a potential sentence of up to a year in jail and a $2,500 fine. Cena is back in court Wednesday for a sentencing hearing.
Cena said in court Monday that it was "righteous indignation," not road rage, that drove him to confront 63-year-old William O'Brien.
Va. Man Guilty of Assault in Deadly Road Rage Incident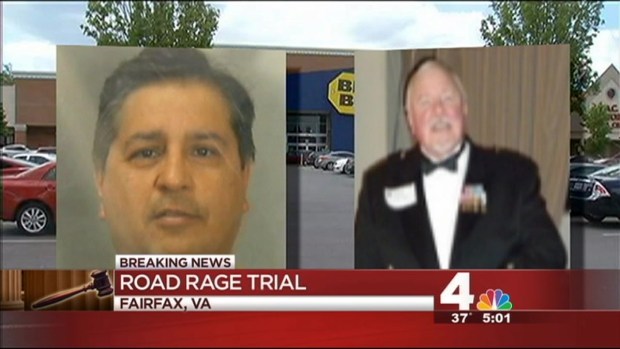 He took the stand in his own defense Monday, admitting that he wanted to yell at O'Brien for "honking incessantly" at him as the two drove along Pickett Road on April 16, 2013.
In court Monday, prosecutors played security camera video taken in the Best Buy parking lot that shows O'Brien parking his car. The video shows Cena driving in behind him and parking, then walking quickly toward O'Brien.
Cena said he approached O'Brien, yelling, "Don't ever honk at me like that again or one day you're going to get your a** kicked."
The two scuffled, but it's difficult to see on the video who threw the first punch.
The two men separated when witnesses told them to break it up, and O'Brien picked up his glasses and went inside a Best Buy store, where he told a cashier he'd been attacked. Cena got back in his car and drove off.
Two hours later, O'Brien called 911 from his home complaining of excruciating head pain. Prosecutors played the call in court. O'Brien can be heard moaning in pain throughout the call, telling the dispatcher, "I'm in significant distress. I was assaulted in a parking lot and I think I'm having a problem."
The dispatcher asked, "What's wrong? What's hurting you?"
O'Brien answered, "I have a headache that is about to make my head blow off."
By the time emergency crews arrived, O'Brien was unresponsive. Paramedics had to force their way into the home, where they found him on the floor.
He died 10 days later from a subdural hemorrhage.
In the aftermath of the incident, police put out a lookout for Cena's car. Two days later, he was pulled over and taken in for a police interview.
In a videotaped interview with Fairfax City Detective Michael Boone shown on WashingtonPost.com, Cena insisted he only wanted to "have words with" the other man. He accused O'Brien of throwing the first punch and says he only hit the older man in self-defense.
When the detective told Cena that O'Brien was likely to die, Cena replied, "He hit me ... I was backing up the whole time."
In closing arguments, prosecutor Mark Birnbaum told jurors to reject Cena's claim that he was only defending himself.
"It is the choice of this defendant. Without his choice, there is simply no second event," said Birnbaum. "He goes in solely to confront Mr. O'Brien. He's looking for a fight."
But defense attorney Kelly Sprissler asked jurors to find her client not guilty.
"What happened here between these two men on April 16 was a tragedy, but it is not a crime."
She said Cena never meant to hurt O'Brien, he only wanted to "use words" to confront him.
The defense also maintained that O'Brien died from his injury because he was taking a prescription blood thinner called Pradaxa.
"The Pradaxa is what makes this injury severe, not the force of the blow," said Sprissler.
The defense called a final witness before closing arguments. Quan Houng left the Best Buy store and noticed the two men scuffling in the parking lot. He shouted at the men to stop the fight but said it appeared to him that O'Brien had the upper hand in the conflict.