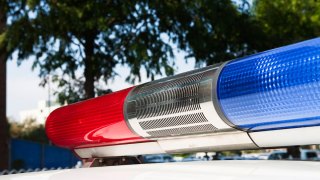 An armored truck lost an unknown amount of money on a Maryland interstate Friday morning -- and numerous drivers quickly scooped up the money, police said.
Maryland State Police are now "reminding" the drivers to that they are "welcome to turn in the money at the local barrack."
The incident happened shortly before 8 a.m. in the northbound lanes of I-270 near Route 80.
According to a preliminary investigation, a door lock on the armored truck malfunctioned, causing a side door to open. A bag of cash fell into the left lane of I-270, scattering cash into the air and across the highway, police said.
The truck driver pulled over to the shoulder and saw multiple vehicles had also stopped, with drivers picking up the cash. When a fire department official arrived at the scene, the drivers quickly left.
Maryland State Police, assisted by a K-9 team, recovered just over $200 from the scene.
Authorities have issued a warning to the drivers who grabbed the cash, telling them they can turn in the money at Maryland State Police's Frederick barrack. Those who don't return the cash could face theft charges if police learn their identities, authorities said.