A four-vehicle crash shut down all lanes of the Outer Loop of the Beltway between Interstate 95 and New Hampshire Avenue in Silver Spring, Maryland, about 7:15 p.m. Friday.
One person was taken to a hospital with serious injuries but is expected to survive, Maryland State Police said.
The vehicles involved include a truck and a tractor-trailer, police said.
The crash caused major delays on the Outer Loop and southbound I-95.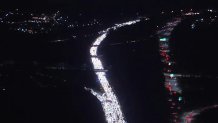 Three left of the Outer Loop reopened about 8:30 p.m.
There's no word on a cause of the crash.