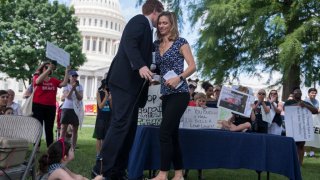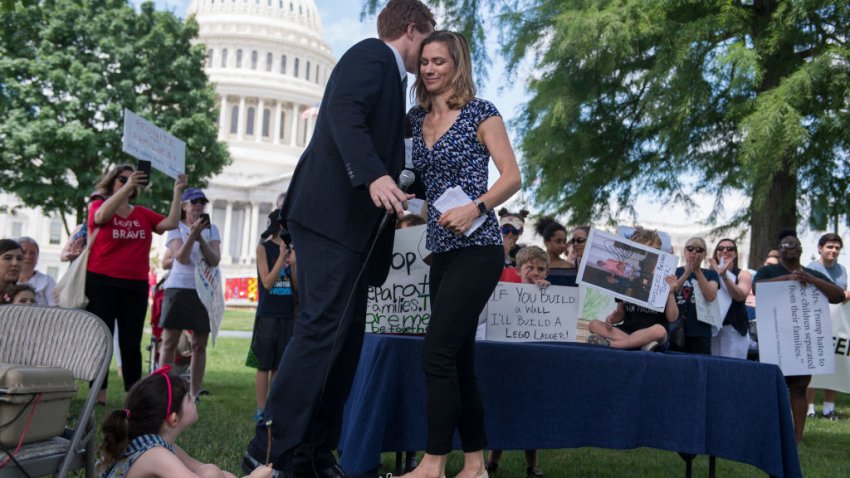 The search for two members of the Kennedy family — an 8-year-old boy and his mother — who went missing Thursday while canoeing in the Chesapeake Bay was suspended Friday evening due to darkness and high wind. They are presumed dead.
Maeve Kennedy Townsend McKean, 40, and her son Gideon Joseph Kennedy McKean went missing Thursday afternoon, Maryland Gov. Larry Hogan said at a news conference Friday afternoon.
"The chances they have survived are impossibly small," McKean's husband, David McKean, wrote on Facebook. "It is clear that Maeve and Gideon have passed away."
"With profound sadness, I share the news that the search for my beloved daughter Maeve and grandson Gideon has turned from rescue to recovery," McKean's mother, former Maryland Lt. Gov. Kathleen Kennedy Townsend said in a statement Friday night. "Our Maeve devoted her life to helping society's most vulnerable. She did everything with her full self and her whole heart. She gave the best hugs, sang loudly and out of tune, danced, wrestled, argued, forgave. Maeve shone. The fire emanating from her soul warmed us all."
An overturned canoe was found during the major search by the U.S. Coast Guard and multiple police and fire departments.
The governor said he spoke with Townsend Friday morning.
"I expressed our most heartfelt sympathies and prayers to her and her entire family during this most difficult time," Hogan said.
McKean was a granddaughter of Robert F. Kennedy and grandniece of former president John F. Kennedy. Her mother ran for governor in 2002. McKean was executive director of Georgetown University's Global Health Initiative.
"Gideon, like his mom, was a star athlete who loved soccer, golf, and running," Townsend said. "He took after his parents in the most extraordinary ways. He loved riddles, math, chess, and adventures. He loved to invent new games with his mom and share them with us all. Gideon was a loving and protective big brother to Gabriella and Toby."
Local
Washington, D.C., Maryland and Virginia local news, events and information
The Washington, D.C., residents were self-quarantining at an empty house owned by Townsend in Shady Side, according to David McKean.
Maeve McKean and Gideon were playing kickball near a shallow cove behind the house when the ball went in the water, according to David McKean. They got into the canoe to retrieve it from the cove but got pushed into the bay.
Someone spotted them struggling to get back to shore about 30 minutes later and called authorities, according to the U.S. Coast Guard. They were not seen again.
Amid strong winds, police responded to the area of Robinson Road in Shady Side at about 4:50 p.m. to search for the mother and son.
At about 6:30 p.m. Thursday, the Coast Guard recovered an overturned canoe "matching the approximate description" of the missing canoe, according to David McKean.
Natural Resources Police, Maryland State Police, the U.S. Coast Guard and local police and fire departments searched for the McKeans for the rest of the day and into the night and throughout the day Friday.
"This was a difficult case, and even more difficult to make the decision to suspend the search," Coast Guard Cmdr. Matthew Fine said in a release. "Our crews and partners did everything they could to find them. We've kept the family informed at every step during the search, and our thoughts are with them tonight."
The recovery effort resume Saturday. The Maryland Natural Resources Police the Anne Arundel County Fire Department and the Charles County Sheriff's Office Dive Team are conducting conducting a surface search and side scan sonar operations in the bay around the area between where McKean and Gideon were last seen and where the canoe was recovered. 
"When my uncle Ted eulogized my father, he offered a prayer that what my father was to his family, and what he wished for others, would someday come to pass for all the world. This is our prayer for Maeve and Gideon," Townsend said. "My heart is crushed, yet we shall try to summon the grace of God and what strength we have to honor the hope, energy and passion that Maeve and Gideon set forth into the world."
Anyone with information is asked to call police at 800-628-9944 or VHF Channel 16.
Stay with NBC Washington for more details on this developing story.