The 15-year-old boy shot and killed Saturday on a D.C. Metro platform had been headed to get a haircut with his mother and two younger sisters before Easter when a man approached him and opened fire, family members said.
Davonte Washington died Saturday after a man shot him about 4:15 p.m. inside the Deanwood Metro station in Northeast D.C., police said Sunday. Washington was rushed to a hospital, where he died.
"It's been a very somber Easter," said Victor Leonard, Washington's grandfather.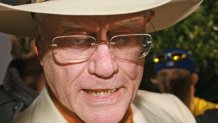 Washington, a ninth-grader and Air Force junior ROTC member at Largo High School, got off a bus with his mother and little sisters Saturday afternoon and was waiting for a train when a man walked up to him, Leonard said Washington's mother told him.
"They were on the platform. She said the guy walked up to them and asked him what was going on. He said, 'Nothing.' The guy said, 'I'll shoot you,' and he shot him," Leonard said. "Just like that."
Washington's mother had trouble getting help in the Metro station, Leonard said.
Local
Washington, D.C., Maryland and Virginia local news, events and information
"There was no police officer in the station nowhere," he said. "My daughter said she was running, looking for help and there's no one in sight."
Metropolitan Police Department District Cmdr. David Taylor said police do not believe Washington was shot at random.
But the teen's grandfather said the family has no reason to believe Washington knew the gunman.
No information about a suspect was immediately released, but Metro chairman Jack Evans said surveillance cameras in the station caught the shooting.
"It's a little-known fact that if you commit a crime in or around Metro, we we have a good record of catching everybody because of the great surveillance we have," he said.
Washington's family said there should be a greater police presence at the Metro station.
Prince George's County Public Schools extended condolences to the 15-year-old's loved ones.
"Our thoughts and prayers are with the family of Davonte Washington," a statement released Sunday said.
Counselors will be available next Tuesday at Largo High School, which students return from spring break.
Washington's family has started a GoFundMe account to help cover the costs of his funeral.
Anyone with information for police is asked to call 202-727-9099 or send an anonymous text message to 50411. A reward of as much as $25,000 is offered to anyone who provides information that leads to an arrest.