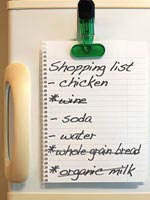 When food prices began rising this summer, my family's weekly grocery bills jumped from $150 to $200. (This amount does not include what we were spending eating out, but does include expenses for diapers, paper goods, and other sundries.)
The sudden increase was alarming, especially considering that my wife and I were also forced to spend more than $600 a month to commute from our small farm to our jobs. At first, the amount we were spending on groceries seemed absurd for a family of four. We buy our groceries at one of two discount supermarkets. Plus, we were subsidizing our diet with vegetables from our garden and meat from two pigs we slaughtered last winter.
So we began looking at every purchase in earnest, trying to shave $50 off our weekly grocery expenses (we have also killed our restaurant budget entirely). I had assumed we were eating too high on the hog. But when I threw out the occasional splurge on gourmet coffee, red wine, and a block of Irish cheddar (as much as $7.98 for 7 ounces), I discovered our grocery list wasn't that out of whack and couldn't easily be pared back without a serious change in diet. Here's a sample from June, a $116 tab that was one of two trips we made to the grocer that week.
• Meat: $26
• Dairy: $22
• Fresh fruit and vegetables: $15
• Canned and frozen vegetables: $12
We spent half our budget on whole foods and mildly processed staples. The rest was going to diapers ($15), oatmeal (pennies), soft drinks ($6 a week), dog food, and allergen-free products ($20) for our youngest.
To cut back on costs, we've already made some changes to our list. We're buying less expensive (often fattier) cuts of meat. We've dropped anything with organic or grass-fed on the label. We've cut the Irish cheese completely and we're drinking wine (gasp!) from a box.
Beyond that we're struggling to make any significant reductions in our spending. I don't want to start loading up our basket with high-caloric processed foods. It's not good for my diabetes or our children (even if our son with food allergies could eat processed foods).
The low cost of energy-dense processed food is one reason there's an inverse relationship in the United States between poverty and obesity. Even though the poor in Alabama (where we live), for example, have less money to spend than the more affluent, they are more likely to be obese. If my family suddenly begins filling our calorie counts with cheaper food products instead of the fresh fruits and veggies we normally consume, what are the long-term consequences to our health?
I'm honestly stumped. We need to save money and we need to buy food that's healthy. Are those two goals incompatible? I'd love to hear your thoughts and suggestions for saving money on food.
In the meantime, my wife and I will cut back not on what we eat, but on how much. Maybe a little belt-cinching on our budget can have the same effect on our waistlines. And we'll let the kids keep eating high on the hog.
(PHOTO: FOTOLIA/HEALTH)

Related Links:
Recent posts by Sean Kelley:
Copyright HELTH - Health.com