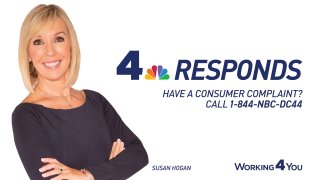 What to Know
You can call our Consumer Hotline at 844-NBC-DC44 (844-622-3244)
You can also fill out the Consumer Complaint form
All calls and questions are answered
Have a consumer concern? An issue that hasn't been resolved?
Tell NBC4 Responds — we are responding to EVERY consumer issue!
Send us a tip through our online form or by calling 844-NBC-DC44, and we will investigate your situation. We're Working 4 You — and committed to getting you answers and, if we can, a resolution.
NBC4 Responds
NBC4 Responds is Working 4 You to help you save money and keep your family safe
NBC4 Responds stories are reported by News4 Consumer Reporter Susan Hogan and producer Meredith Royster. 
You can see all their NBC4 Responds stories right here.
Need help with a consumer issue? Go here to submit a tip to NBC4 Responds.