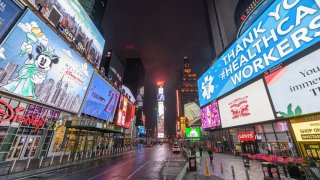 The coverage on this live blog has ended — but for up-to-the-minute coverage on the coronavirus, visit the live blog from CNBC's U.S. team.
The Covid-19 vaccine rollout continues across the U.S. Tuesday. The first shots of Pfizer's two-dose vaccine, administered to health care workers, were met with applause and relief Monday. While the rollout is an encouraging new chapter in the country's fight against the coronavirus, it'll still be a few months until the general public can line up at a doctor's office or a neighborhood drugstore to get the shot. Health experts caution social distancing and masks are key to preventing viral spread in the meantime.
The U.S. is recording at least 215,400 new Covid-19 cases and at least 2,300 virus-related deaths each day, based on a seven-day average calculated by CNBC using Johns Hopkins University data.
Here are the biggest developments Tuesday:
The following data was compiled by Johns Hopkins University:
Global cases: More than 73.41 million
Global deaths: At least 1.63 million
U.S. cases: More than 16.71 million
U.S. deaths: At least 303,500 
Port of Los Angeles urges vaccine priority access for port workers
Port workers should be prioritized for Covid testing and vaccination, said Gene Seroka, executive director of the Port of Los Angeles.
Seroka said he has co-signed a letter with labor leaders and other businesses urging the governors of Washington, Oregon and California for measures to keep port workers safe, including priority access to vaccines and testing.
"Our port workers need to be prioritized, they've been on the job since day one of the emergency orders here stateside and we need to keep them safe and healthy," he told CNBC's "Squawk Box Asia."
All cargo terminals at the Port of Los Angeles have remained open and operational through the pandemic. Last month, the port processed 889,746 twenty-foot equivalent units — an increase of 22% compared to November last year.
— Yen Nee Lee
Tom Cruise calls out crew members not following Covid guidelines on 'Mission: Impossible 7' set
Tom Cruise is not permitting any Covid guidelines on the set of "Mission: Impossible 7" to be broken.
On Tuesday, Variety and The Sun reported that Cruise lambasted crew members who had been standing too close to each other in front of a computer screen. He reportedly said: "If I see you do it again you're f------ gone."
Cruise has been strict about enforcing safety measures on the set of the film, which is currently filming in the U.K.
"You can tell it to the people who are losing their f------ homes because our industry is shut down," the actor said according to media reports. "It's not going to put food on their table or pay for their college education. That's what I sleep with every night – the future of this f------ industry."
"Mission: Impossible 7" had been delayed in October when 12 people on set in Italy tested positive for the coronavirus. Production resumed a week later and then returned to the U.K. two weeks ago. The films is set to be released on Nov. 19, 2021.
Read the full story from Variety.
—Sarah Whitten
United starts flying Pfizer's vaccine on passenger flights
You might be sharing your next passenger flight with coronavirus vaccines. Shortly after federal regulators approved the Pfizer and BioNTech Covid-19 vaccine, United Airlines started flying doses in the bellies of some of its passenger jets.
United had already shipped millions of doses of the vaccine from Brussels to its hub in Chicago's O'Hare International Airport in Boeing 777 aircraft dedicated solely to air cargo, becoming the country's first passenger airline to fly the vaccines into the U.S.
The new, smaller shipments, headed for vaccine administration sites, can be flown on smaller planes, the airline told CNBC.
United and other passenger airlines are routinely contracted by FedEx, UPS and others to carry packages and other goods, and have been preparing for vaccine distribution for months.
—Leslie Josephs
Pfizer to distribute 4 million vaccine doses next week, White House press secretary says
Pfizer will distribute 4 million doses of its Covid-19 vaccine next week following the initial 2.9 million doses the company shipped out this week, White House press secretary Kayleigh McEnany told reporters during a briefing.
The Trump administration is hopeful that Moderna's vaccine, which is set to be reviewed by the U.S. Food and Drug Administration's Vaccines and Related Biological Products Advisory Committee on Thursday, will also be granted emergency authorization, paving the way for an additional 6 million vaccine doses next week, McEnany said.
"The FDA said that the data looks good, we're waiting for that EUA," McEnany said. "So, 10 million doses out next week."
Health and Human Services Secretary Alex Azar has said that the Trump administration's vaccine program Operation Warp Speed hopes to have roughly 40 million doses of vaccine ready to deliver by the end of this year, enough to vaccinate 20 million people with the first dose of the two-dose regimens.
—Noah Higgins-Dunn
FDA approves first over-the-counter rapid at-home Covid test
The Food and Drug Administration approved the first at-home Covid-19 test that can be bought without a prescription, and it will soon be available in U.S. stores, the Associated Press reports.
The test, from Australian manufacturer Ellume, will cost about $30 and can be purchased at pharmacies and online, the AP reported, citing a company spokesperson. The company said it expects to make 3 million tests in January before ramping up production.
The Ellume at-home test is a nose swab that delivers results as fast as 20 minutes, according to FDA Commissioner Stephen Hahn.
—Chris Eudaily
New Year's Eve celebration in Times Square will be closed to the public
New York City's iconic Times Square New Year's Eve celebration will roll forward amid the pandemic but is closed to the public, the co-producers of the event said in a release.
Gloria Gaynor will perform several songs to mark the end of 2020, including her hit "I Will Survive." Actor Jonathan Bennett is set to host.
New York City Mayor Bill de Blasio is considering a shutdown after Christmas to try to slow the increasing number of cases in the city, NBC New York reported. A final decision on the potential shutdown has to be made by Gov. Andrew Cuomo.
Though Times Square New Year's Eve is closed to the crowds that typically set the scene for the festivities, this year's celebration will recognize the "Heroes of 2020" as official Special Guests. Those guests include people who "show the courage and creativity to help us through this year," and will be represented at the event by New York families of first responders, frontline and essential workers, according to the release.
The Times Square celebration can be watched live on broadcast TV and streaming.
—Chris Eudaily
Fatigue, headaches among some side effects of Moderna's vaccine
Fatigue, headaches and muscle pain are the most common side effects from Moderna's Covid-19 vaccine, along with some rare symptoms like intractable nausea or vomiting and facial swelling that are likely related to the shots, according to new data released Tuesday by the Food and Drug Administration.
Side effects to vaccines are common. It's actually an immune response that indicates the shots are working as intended, doctors say. Many physicians are advising the public to brace for some stronger-than-usual side effects from the Covid-19 shots than, say, a typical flu shot, and to possibly take a day or two off work to recover.
More than 9 out of 10 participants who received Moderna's vaccine felt pain at the injection site, almost 7 out of 10 felt fatigued and roughly 6 out of 10 had headaches or muscle pain, the FDA said.
—Will Feuer
Supreme Court sides with Colorado church challenging 50-person limit on houses of worship
The Supreme Court sided with a church in Colorado that was challenging Covid-19 related capacity limits instituted by the state's Democratic governor. The decision came in an unsigned order.
High Plains Harvest Church had asked the justices to block a 50-person limit for some houses of worship, arguing that it discriminated against religious groups and was harsher than rules that applied to retailers.
Gov. Jared Polis had already lifted the restriction in the wake of a previous Supreme Court decision, handed down in November, which blocked similar rules in New York.
Because of the state's action, the court's three liberals, Justices Elena Kagan, Sonia Sotomayor and Stephen Breyer, dissented from Tuesday's order, saying the case was moot, or no longer legally relevant.
The church garnered at least five votes, and may have received as many as six, given that only three of the court's nine members noted dissents. The decision in the New York case was 5-4, with Chief Justice John Roberts in the minority alongside the liberals.
—Tucker Higgins
Relief bill offers $300 a week in jobless benefits, extra weeks of aid
A bipartisan Covid relief bill issued Monday night would pay $300 a week in additional unemployment benefits and extend expiring aid programs for four months, until mid-April.
The $300 stipend would be available from the end of December until April 19.
Millions of people are enrolled in two CARES Act programs that will end in about a week and a half unless Congress acts. The Pandemic Unemployment Assistance program pays benefits to self-employed, gig, freelance and other workers. Pandemic Emergency Unemployment Compensation provides 13 extra weeks of state benefits, which typically last up to six months.
—Greg Iacurci
Fauci's 'proudest moment' during the pandemic so far
Dr. Anthony Fauci shared the accomplishment during the pandemic of which he's proudest of so far.
"I think the proudest moment would be the fact that we have successfully done what people would find to be the unimaginable," Fauci said during an interview with the Center for Strategic and International Studies Commission on Monday.
The ability to sequence the novel virus that causes Covid-19 and develop vaccines in the course of a year is "a historic, unprecedented achievement," Fauci said. Pfizer and BioNTech's Covid-19 vaccine was approved for emergency use Dec. 11.
The nation's leading expert on infectious diseases added that he feels proud "that we played a significant role in the actual success and development of that vaccine."
The most "painful" moments so far have been grasping the "extraordinary burden of disease and death in this country," Fauci said.
—Cory Stieg
FDA recommends watching for Bell's palsy in Moderna vaccine recipients
U.S. Food and Drug Administration staff recommends monitoring people who get Moderna's Covid-19 vaccine for possible cases of Bell's palsy, saying it's not necessarily a side effect but worth monitoring after three trial participants who were vaccinated came down with the condition.
Bell's palsy causes a sudden freezing or weakness in a person's facial muscles that's temporary for most people, according to the Mayo Clinic. A Food and Drug Administration staff report said there were four reported cases of Bell's palsy among Moderna's more than 30,000 clinical trial participants, with three in the vaccinated group and one in the placebo group.
While there was a small imbalance of cases in the vaccine group compared with the placebo, the FDA said it's not certain whether the drug contributed to the paralysis "because the number of cases was small and not more frequent than expected in the general population." Two of the cases among Moderna's vaccine group have since "resolved" while one was still ongoing at the time of the report, the FDA staff said.
—Noah Higgins-Dunn
Investment fraud like Ponzi schemes are on the rise
Criminals are using the chaos of the Covid pandemic to perpetrate Ponzi schemes and other types of investment fraud in greater numbers, the Securities and Exchange Commission is warning.
Investors should be on alert for Ponzis, fake certificates of deposit, pump-and-dump schemes and other investment scams, according to the federal agency, which has recently received a significantly higher level of complaints, tips and referrals about such frauds.
—Greg Iacurci
Tuesday may be too late to order your holiday gifts online
You might want to think again about buying online if you haven't ordered all of your holiday gifts yet.
Tuesday marks the official cut-off in the United States for ground shipping by Dec. 24, for UPS, FedEx and the U.S. Postal Service, CNBC's Lauren Thomas reports.
Shoppers typically have more time to complete their holiday shopping on the internet, but this year looks a lot different. Retailers' supply chains have been strained and backlogs in warehouses have been building for weeks now as e-commerce sales surged.
Holiday sales this year are expected by Adobe Analytics to rise by more than 30% from 2019 levels. The majority of retailers have pushed up shipping deadlines by at least one to two days, and about 25% of them by at least a week, according to Jason Goldberg, chief commerce strategy officer at Publicis Communications, part of Publicis Groupe.
—Melodie Warner 
Remote work trend continues through 2021, Upwork survey reveals
The pandemic has had a long-lasting impact on the future of work with over one-fourth of Americans continuing to work remotely in 2021, according to an Upwork survey. By 2025, 36.2 million people will be working remotely in the U.S., an 87% increase from pre-pandemic.
The Upwork study surveyed 1,000 small business owners, HR managers and CEOs across a wide spectrum of industries nationwide. It was conducted from Oct. 21 to Nov. 7.
"Surprising findings include the fact that more companies are opting to use freelancers to fill the skills gap now that they are more comfortable with the remote work model, and remote work is getting better for the vast majority of companies and workers in the U.S.," said Upwork's chief economist Adam Ozimek.

Nine months into the pandemic, 41.8% of the American workforce remains fully remote.
—Lori Ioannou
Dow opens higher as new stimulus proposal unveiled
U.S. stocks opened higher as the country begins to roll out Covid-19 vaccines and Congress continues negotiations on another economic relief package, reports CNBC's Fred Imbert and Jesse Pound.
The Dow Jones Industrial Average gained 174 points, or 0.6%. The S&P 500 advanced 0.7%, and the Nasdaq Composite climbed 0.8%.
—Melodie Warner 
Retailers facing a make-or-break holiday season
The Covid-19 pandemic has pushed a record number of consumers to shop online. Big-box retailers, such as Walmart and Target, have benefitted from the shift in spending while retailers found in shopping malls have suffered some of the greatest hardships, reports CNBC's Lauren Thomas.
More than $766 billion in sales is up for grabs this holiday season, as much as a 5.2% jump from 2019 levels, according to the National Retail Federation.
But even with this upbeat forecast, there have been more than three dozen retail bankruptcies this year, according to S&P Global — an 11-year high. And more than 8,400 store closures have been announced by retailers, according to Coresight Research.
"The worst is yet to come. The dust has not settled on this," Scott Stuart, CEO of the Turnaround Management Association, recently told CNBC in an interview. "You think Christmas is going to save retailers? Maybe it won't."
—Melodie Warner 
Warren Buffett urges Congress to extend relief for small businesses
Legendary investor Warren Buffett urged Congress to extend aid to small businesses as they continue to struggle through economic shutdowns used to fight the coronavirus pandemic.
"It's an economic war," Buffett told CNBC's Becky Quick on "Squawk Box," speaking alongside Goldman Sachs CEO David Solomon about helping small businesses. Specifically, Buffett asked lawmakers to extend the Paycheck Protection Program.
"I think the country owes it to the millions of small-business people … just renew the PPP and get us to the end of the tunnel," Buffett said. "When we went into World War II, a lot of industries were shut down; everything went to the defense production. Well, we've shut down a lot of people in this particular induced recession and others are prospering."
Congress has been in a stalemate for months in its negotiations for new government aid, putting pressure on businesses, particularly the smaller ones.
—Fred Imbert
Moderna's vaccine is one step closer to an emergency use authorization
Moderna's coronavirus vaccine is one step closer to an emergency use authorization from the Food and Drug Administration, after a report by agency staff said the drug meets the necessary criteria.
The report, like the one issued for Pfizer's vaccine last week, is meant to brief an advisory panel of outside medical professionals, who vote whether to recommend that the agency authorize the vaccine for emergency use. The panel is scheduled to meet on Thursday, setting up a potential approval as early as Friday.
Moderna's vaccine was found in clinical trials to be 94% effective.
—Sara Salinas
EU could approve Pfizer-BioNTech vaccine by Christmas
The European Union is targeting a Dec. 23 deadline for making a recommendation on Pfizer's and BioNTech's vaccine, Reuters reports. The drug has been approved and distributed in the U.K. and U.S.
An approval from the European Medicines Agency is required before the 27 EU states could begin vaccinations. The bloc includes some of the nations hit hardest by the virus, like France and Italy.
—Sara Salinas
How one small business owner operated during the pandemic
U.S. hospitalizations surpass 110,000
More than 110,000 people are hospitalized with Covid-19 across the U.S., the highest level yet, according to data from The Atlantic's COVID Tracking Project.
The rapid rise of hospitalizations has strained health systems and overwhelmed health care workers, prompting stricter public safety measures in many places in an effort to slow the viral spread and restore ICU bed capacity.
The bleak benchmark for the nation's Covid-19 crisis comes at the same time as a nationwide vaccine rollout, with shots administered first to health care works.
—Sara Salinas
Read CNBC's previous live coverage here:
Covid updates: U.S. death toll hits 300,000; new virus variant spreading in UK
Copyright CNBC