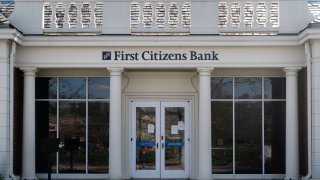 This report is from today's CNBC Daily Open, our new, international markets newsletter. CNBC Daily Open brings investors up to speed on everything they need to know, no matter where they are. Like what you see? You can subscribe here.
First Citizens bank agreed to buy Silicon Valley Bank's deposits and loans, suggesting there is still confidence in the U.S. banking sector.
What you need to know today
We're making it easier for you to find stories that matter with our new newsletter — The 4Front. Sign up here and get news that is important for you to your inbox.
Local governments in China are feeling the pinch too. Their direct debt exceeded 120% of revenue in 2022, according to S&P Global Ratings analysts. Some local governments are trying new ways of boosting revenue — such as selling licenses for bicycle-sharing services.
PRO Several important economic data points will be released this week: personal consumption expenditures, consumer sentiment and home sales. But concerns about the banking system will likely dominate markets and cause continued volatility.
The bottom line
Just as this newsletter was about to be sent out, the U.S. FDIC announced First Citizens Bank has agreed to buy Silicon Valley Bank's deposits and loans. Details — such as how the agreement will affect shareholders and bondholders — are still forthcoming.
My instinctive response, however, is that markets will welcome the news (eventually). Successfully finding a buyer for a bank that has seen its depositors flee and incurred losses on its bonds is no mean feat. By all appearances, First Citizens Bank is a willing buyer of SVB — unlike UBS' forced marriage with Credit Suisse, orchestrated by Swiss regulators. It signals there is value left in SVB, perhaps in its reputation and relations with the tech and venture capital community. More broadly, it shows there is still confidence in the U.S. banking sector.
It's certainly welcome news after the events of Friday. Now that central banks worldwide have made their interest rate decisions, markets are turning their attention back to the banking sector. In today's heightened atmosphere, however, prudence can quickly — and arbitrarily — tip over into paranoia.
Deutsche Bank appears to be the latest victim of the market's panic. On Friday, after the price of its credit default swaps rose to its highest since 2018, investors sparked a sell-off in the German bank. The move is mostly irrational, according to analysts. Deutsche Bank is not another Credit Suisse in two key aspects.
First, have a look at their fourth-quarter reports. Deutsche Bank reported a 1.8-billion-euro ($1.98 billion) net profit, giving it an annual net income for 2022 of 5 billion euros. By contrast, Credit Suisse had a fourth-quarter loss of 1.4 billion Swiss francs ($1.51 billion), bringing it to a full-year loss of 7.3 billion Swiss francs. The difference between the two European banks couldn't be starker.
Second, Deutsche Bank's liquidity coverage ratio was 142% at the end of 2022, meaning the bank had more than enough liquid assets to cover a sudden outflow of cash for 30 days. On the other hand, Credit Suisse disclosed it had to use "liquidity buffers" in 2022 as the Swiss bank fell below regulatory requirements of liquidity.
Research firm Autonomous, a subsidiary of AllianceBernstein, was so confident in Deutsche Bank that it issued a research note stating: "We have no concerns about Deutsche's viability or asset marks. To be crystal clear — Deutsche is NOT the next Credit Suisse."
While the Deutsche Bank episode reverberated through Europe markets, U.S. investors seemed less concerned. In fact, the SPDR S&P Regional Banking ETF gained 3.03% on Friday. Major indexes also rose — not just for the day, but the week. The Dow Jones Industrial Average inched up 0.41%, giving it a 0.4% week-over-week gain. The S&P 500 rose 0.56%, contributing to a 1.4% weekly increase. The Nasdaq Composite added 0.3% to finish the week 1.6% higher.
It's an impressive showing given market volatility. Unfortunately, there's no promise of stability this week. The personal consumption expenditure price index — the inflation reading most important to the Fed — will come out Friday, and it's "going to be sticky," said Marc Chandler, chief market strategist at Bannockburn Global Forex. But the banking crisis will continue gripping markets so tightly that they might not care about inflation as much — for better or worse.
Subscribe here to get this report sent directly to your inbox each morning before markets open.
Copyright CNBCs - CNBC