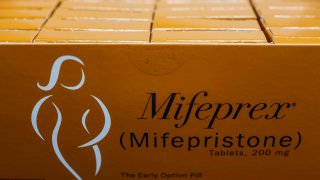 The Supreme Court last week upheld Food and Drug Administration regulations that permit easy access to the abortion drug mifepristone.
A legal battle over the medication and its FDA rules is still playing out in a federal appeals court.
Despite the decision, mifepristone will remain largely unavailable in 13 states that banned abortion since the federal right to abortion established in the case Roe v. Wade was overturned last summer by the Supreme Court.
Fourteen other states have laws that restrict how mifepristone is used or dispensed.
The abortion pill mifepristone is either banned or restricted to varying degrees in 27 states despite a Supreme Court decision that — for now — maintains Food and Drug Administration regulations allowing easy access to the medication.
The Supreme Court, acting on an emergency basis, last week blocked lower federal court orders that had imposed severe restrictions on mifepristone even in some states where abortion remains legal.
The ruling stemmed from a lawsuit against the FDA by a coalition of doctors who oppose abortion. That group wants to force the agency to pull mifepristone from the market entirely. The Biden administration is opposing that effort.
We're making it easier for you to find stories that matter with our new newsletter — The 4Front. Sign up here and get news that is important for you to your inbox.
The U.S. 5th Circuit Court of Appeals is now scheduled to hear oral arguments in the case on May 17.
The side that loses at the appeals court is certain to ask the Supreme Court to take the case to make a final determination on the legality of the FDA rules.
The FDA rules upheld by the Supreme Court on Friday for several years have allowed women to obtain a mifepristone prescription through a telehealth appointment and to receive the medication by mail.
Patients previously were required by the FDA to obtain mifepristone in person from a health-care provider or take the medication under their supervision.
While the Supreme Court's decision at least temporarily maintains access to mifepristone in states that support broad access to abortion, it will have less or no impact in conservative states that banned the procedure since last summer, when the high court overturned the half-century-old federal constitutional right to abortion.
Mifepristone will remain largely unavailable in 13 states that have completely banned abortion.
Those states are Alabama, Arkansas, Idaho, Kentucky, Louisiana, Mississippi, Missouri, North Dakota, Oklahoma, South Dakota, Tennessee, Texas and West Virginia, according to the Guttmacher Institute, a nonprofit group that supports abortion access.
All of those states have exceptions that allow abortion when the woman's life is in danger.
And Idaho, West Virginia and North Dakota have exceptions for pregnancies that result from rape and incest, although in North Dakota that exception applies only through the sixth week of pregnancy.
Fourteen other states have restrictions on mifepristone that go beyond the FDA regulations temporarily upheld by the Supreme Court.
Those states require women to obtain the pill from a doctor.
Those states are: Alaska, Arizona, Florida, Georgia, Indiana, Iowa, Michigan, Nebraska, Nevada, North Carolina, Ohio, Pennsylvania, South Carolina and Utah.
Florida, Georgia and Ohio ban abortion after six weeks before many women know they are pregnant.
Mifepristone is FDA-approved to terminate an early pregnancy up to the 10th week of pregnancy.
There are pending federal lawsuits in North Carolina and West Virginia that seek to overturn those states' mifepristone restrictions.
Copyright CNBC