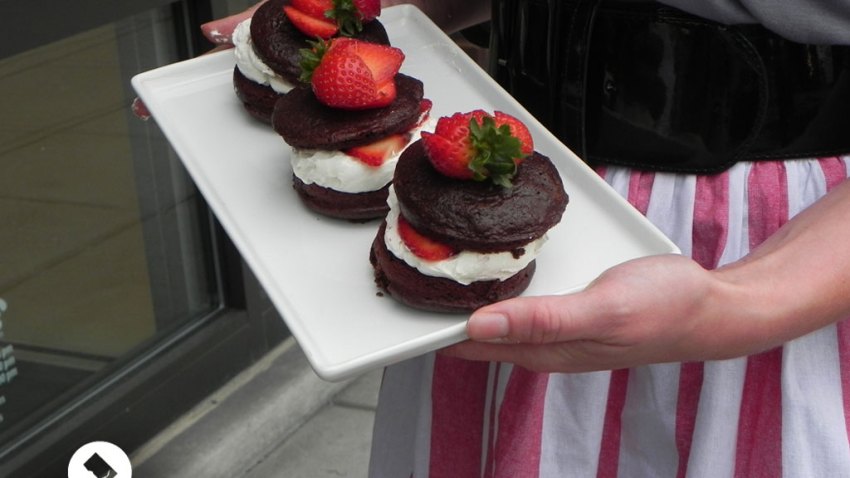 All photos by Kat Lucero
McKee Floyd says that people usually have two reactions to whoopie pies. The first is nostalgia -- I haven't had one in years! And the second is curiosity -- What in the world is that?! Mine would be latter.
The whoopie pie, to me as a child in Chicago, was like a mythical creature. I've heard of stories about it, but I've never touched, tasted or seen one. But just a few days ago, I finally had my first encounter. Two slider-sized chocolate cakes sandwiching strawberries and a delectable-looking homemade cream beckoned me to indulge. I came, I saw, I ate. And yes, after the first bite, my inner Tag Team had to say "Whoops! There it is!"
There was definitely a party in my mouth that day, and I have Floyd, founder of Whoops! bakeshop, to thank. Whoopie pies may not have a firm grasp on Washington's tastebuds yet, but that will change. If Georgetown Cupcakes' Sophie LaMontagne and Katherine Kallinis are leaders of the cupcake pack in D.C., then Floyd is bound to be a leader in the city's whoopie pie revolution.
A whoopie pie is a baked good that looks more like a sandwich than a pie. It's composed of two cookies or cakes, usually chocolate-flavored, with a cream filling in between. Its origin is thought to be Amish, but the whoopie pie has been a classic dessert in New England, especially in Maine. The New York Times seemed to have recently stamped it as a trendy treat, while the Bay Area is just starting to fancy this East Coast transplant.
But first things first in preparing for a revolution. Floyd has renamed her creations as "whoops." Going along with the playful spirit of her business, she wants people to rethink the idea of dessert as a treat that can be enjoyed any time of the day. She even admits to eating an occasional "whoop" for breakfast.
She also says the "whoops" can have a variety of components. With that idea, she's planning to set up D.C.'s first whoopie pie bar once she secures a retail space.
"The idea with that is to let everyone take these elements they love... and create their own whoopie pie using the elements they like best," she says.
A chocolate cake can be on top, the bottom vanilla or both can be pretzels. The frosty filling can be a variety of flavors and the toppings can range from nuts, fresh fruit to bacon bits. Yes, bacon bits. Whoopie pies may be a classic, but she's making them edgy.
Edgy enough that out of all the people she'd love to bake for, aside from Oprah, she chose Lady Gaga, whom she describes as describes embodiment of a "whoop." Classically trained, but with an outrageous presentation.
But ask which D.C.-area local she dreams of baking her confections for other than Michelle Obama, and she'll say Ezra Klein, the 26-year-old Washington Post political blogger.
"I'm blushing right now," she says laughing. "I just think he's a genius. I have such a big wonk-crush on Ezra Klein."
Floyd, who recently left Capitol Hill earlier this year to become an entrepreneur, still has her inner politico. Even one of the best advice she has received was from a mentor on the Hill, and it sounds a lot like political campaigning. "Talk about your product all the time. Never stop telling people on the street what you're doing, on the bus, at a party, in line at a grocery store. If you strike up a conversation with someone, just talk about it. You never know who might be interested."
A Connecticut native, she attended the University of St. Andrews in Scotland and moved to D.C. to work for Rep. John Tierney (D-Mass.) as a legislative assistant for two years. Starting a business has been on her mind and the concept of the whoopie pie, she says, was a great platform to launch.
Prior to leaving the Hill, some of the people she consulted were young local entrepreneurs. One of the Sweetgreen owners advised her to "just do it." And she did. Sweetgreen employed her so she could learn more about small business ownership. Floyd traded days of sitting in front of a desk and writing memos to standing up all day, making food and mopping floors. She also became a baker for local favorite Cakelove, whose founder, Warren Brown, also left a cozy legal job to start his bakery.
A retail space and partnerships with vendors to sell her treats are still in the works, but Floyd has been busy baking. She is currently taking orders of at least 100, baking from her Logan Circle kitchen for mostly events and parties.
Follow the developments of Whoops! at Twitter (@ WhoopsBakeshop) and check out the bakeshop's new music video. Floyd is pumping up D.C. with the arrival of Whoops! to the tune of Two Door Cinema Club's "Something Good Can Work."
Copyright RSDC - Ready Set DC