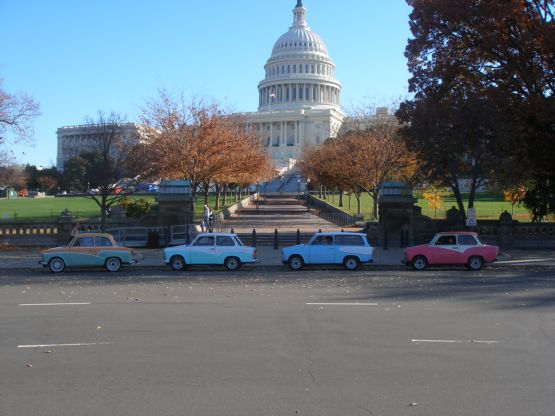 So you weren't even born when the Berlin Wall fell.
You can still celebrate the 20th annniversary of the fall, which happens on Monday, Nov. 9, with a couple of weekend events at the Spy Museum and the Newseum, respectively.
One of 'em even involves getting a free ride in the cutest, communist-bloc car ever.
On Saturday, Nov. 7, the International Spy Museum is starting the festivities at 10 a.m., with a slew of Trabants converging on the museum at 800 F Street NW. The communist-bloc cars that collectors now paint in bright colors "are now affectionately regarded as a symbol of East Germany and the fall of communism."
There'll be experts on hand to answer questions about Trabants, the Cold War, and Communism -- just think of how many spies probably lost their jobs when the Wall fell -- while the Blaskapelle Alte Kameraden German Band provides festive music.
Best of all? The event is free and you could win a ride in a Trabant.
On Sunday, Nov. 8, the Newseum gets in on the action with "fun-filled activities and events for the entire family."
The Newseum's got a bunch of activities planned for the day that starts at 11 a.m., including a scavenger hunt, but perhaps best of all is the talk-and-draw demonstration with Washington artist Tim Conlon. In addition to talking about the artists who risked their lives to paint the Wall, he'll give tips on graffiti styles and techniques.
Then you can use those tips to paint your own messages on the Newseum's own fake Berlin Wall. Cool!
Kids 6 and younger get in for free, but everyone else has to pay.