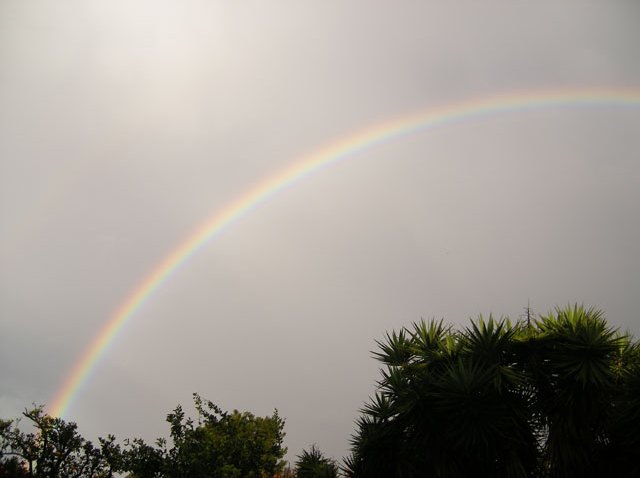 Few things spark more awe, wonder, optimism, conversation -- plus gleeful references to the famous YouTube video -- than a colorful rainbow.
A Virginia art professor is hoping his manmade display does the same.
Michael Jones McKean, an artist and assistant professor at Virginia Commonwealth University, has a created a machine that makes rainbows.
It will be on display later this year at the Bemis Center for Contemporary Arts in Omaha, Neb.
McKean's contraption was eight years in the making, according to the Associated Press. It was developed in his Richmond studio and then tested in other locations. This is the first time it will be on permanent display.
The machine uses a super-sized, customized sprinker system. When the sun shines just right, it creates rainbows that can span nearly four football fields.
So far, McKean's test runs haveproduced rainbows of 200 feet by 200 feet using the right size water droplets and water wall, but a gentle breeze can spread the rainbow to nearly 1,000 feet wide, he said.
"This idea is sort of both granting immense joy to a four-year-old who's chasing a pot of gold even as it's engaging a sophisticated art audience," Bemis Center Curator Hesse McGraw said. "The combination of something that's very elusive, but also spectacular is probably something that a lot
of great contemporary art tries to access."
McKean expects to make two rainbows a day, with each lasting about 15 minutes -- if Mother Nature cooperates, of course. "It's run by the sun. ...Essentially I'm providing the water
and the timing," McKean said.
Enironmentalists, don't fret. McKean says he plans to use rainwater and biodiesel fuel to power the system. There are discussions to bring the project elsewhere, but locations near D.C., sadly, aren't on the list just yet.
---
/dxvDi6">Twitter and Facebook. Sign up for our e-mail newsletters and find out What You're Doing Tonight with texts delivered right to your mobile phone -- just text DCTONIGHT to 622339 to sign up. (Message and data rates may apply.) Don't forget our iPhone app!
Copyright AP - Associated Press