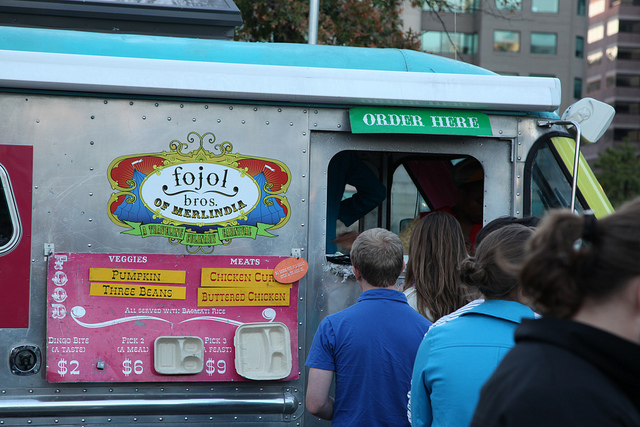 The quirky, colorful Fojol Bros. -- full name: Fojol Bros. of Melindia -- has made a list of Top 20 Food Trucks in America on QSR Magazine.

The brothers claim to have ventured forth from their small village of Adams Morgan to form a "traveling culinary carnival." They explore the city as just one in a flock of increasingly eclectic food trucks, but they're the only ones to make the national list, which also includes Milwaukee's Streetza (serving pizza), L.A.'s Nom Nom Truck (Vietnamese) and NYC's Rickshaw Dumpling Truck.

Says QSR:
Few operations embrace street fare's fun-loving ways more than Fojol Bros. of Merlindia, where workers don flashy turbans and fake mustaches while serving Indian food from the fictional location of Merlindia. (Actually, the food comes from a local, though closely guarded, Indian restaurant.)

Described as a traveling culinary carnival, Fojol Bros. made its reputation at lunchtime. Since the truck's debut on President Obama's inauguration day in January 2009, Fojol Bros. has sparked a following for its buttered chicken (white meat with a butter cream sauce), spicy chicken curry, and pumpkin with fresh coconut and red chiles.
If you need some Fojol in your life (and really, who doesn't?), you can track 'em on Twitter here.
---
Let's Go Around Town: Keep up with what's happening in the D.C. area anytime, anywhere. Follow us on Twitter and Facebook. Sign up for our e-mail newsletters and find out What You're Doing Tonight with texts delivered right to your mobile phone -- just text DCTONIGHT to 622339 to sign up. (Message and data rates may apply.) Don't forget our iPhone app!