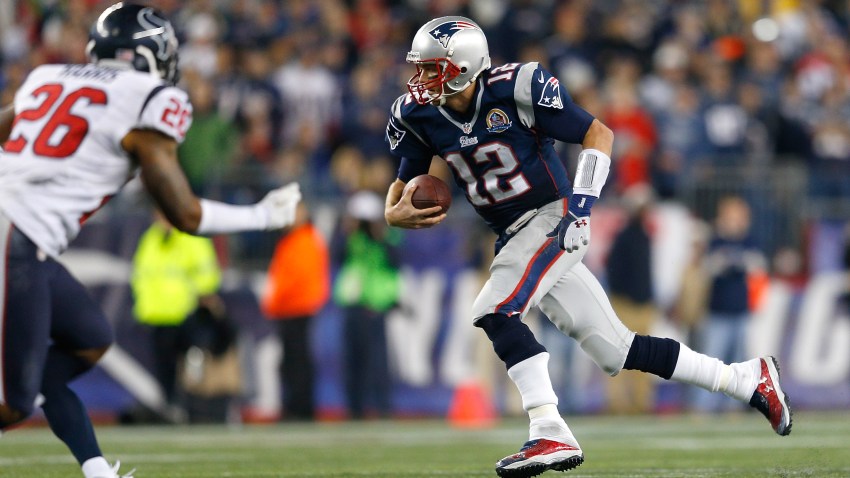 When you think about New England Patriots quarterback Tom Brady, plenty of things come to mind: three Super Bowls, multiple MVP awards, a smokin' hot wife, horrible taste in footwear... but one thing that does not is his scrambling ability.
Yet Brady put his legs to good use during the Pats' 42-14 dismantling of the Houston Texans Monday, rushing for six yards on a 3rd-and-5 to extend a drive at the end of the third quarter.
Brady was quite excited about it, and after the game, he was asked about his rare rushing attempt.
"I don't run too often so I've got to show them I can still do it a little bit," said Brady while flashing that trademark smile of his. "Yeah, I was pretty fired up at that point. All the rest of the people out there, the opposing defenses that say I can't run and won't move out of the pocket, so at least there's a little bit of a threat there. I'm not a big threat, I'm not like RGIII back there or anything, but I can make a first down."
To put Brady's running game in perspective, he has played 11 full NFL seasons (excluding his rookie season of 2000 and his injury-shortened 2008 season) and has rushed for 737 yards on 399 attempts with 13 touchdowns.
Meanwhile, Robert Griffin III has played in 13 total games and has already set the rookie quarterback rushing record with 748 yards on just 112 attempts, not to mention six touchdowns.
Regardless, Washington fans should hope that Griffin can develop into even half the quarterback that Brady is (and it looks like he's on his way). Just skip past the UGGs if they come calling for an endorsement.
---
Follow Adam on Twitter @AdamVingan and e-mail your story ideas to adamvingan (at) gmail.com.