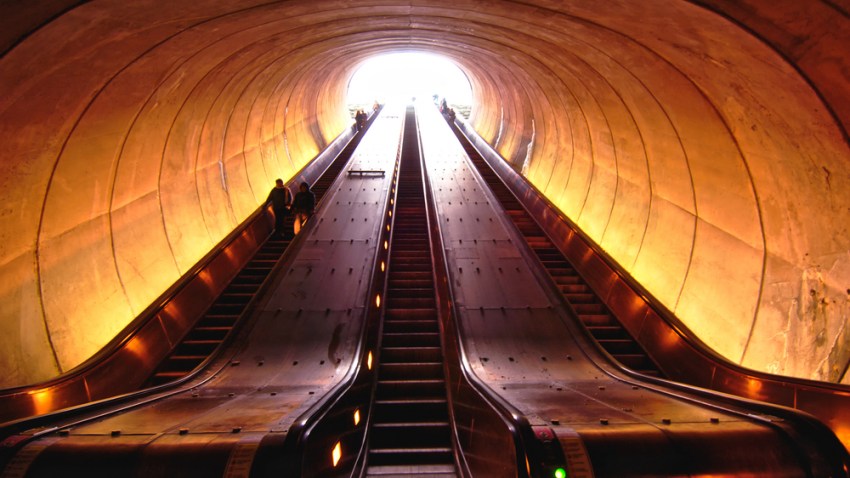 Normally, when one descends staircases into dark, dingy spaces in Dupont Circle, one is on the way to their overpriced basement apartment. But a local group of artists wants to change that. They want to take over the space under Dupont Circle for use as an art gallery.

The space, which hosted the failed Dupont Down Under food court about a decade ago, was once a trolley station. Numerous proposals have been floated over the years to use the space, but none has worked out. Not too many developers have been willing to pump money into Dupont's dark hole.

Art lovers want to lure Dupont's denizens deep underground into the tunnels to look at pretty pictures and sculptures.

The long, dank shaft is no obstacle notes Greater Greater Washington:
"Arts space could succeed where fast food failed. Food establishments rely on foot traffic for much of their patronage, and a dark, cavernous underground tunnel is not exactly the ideal dining space. The tunnel is curved, reducing sight lines. But exhibitions and performances typically don't want outside light, and people travel to them purposefully rather than happening by."

The Arts Coalition for Dupont Underground is waiting on the city to take action. As many projects are, this one's stuck in bureaucratic hell. The coalition hopes that the mayor's office will sign off on their proposal so that they can begin raising $500K or so to renovate the space, which due to about a decade of neglect, really needs a power wash or three.

But will a renovated arts space be enough to lure people down into the bowels of the city, especially those who are afraid of Mole Men and giant rats? Would it increase foot traffic in the area, helping those businesses in the area? The coalition certainly hopes so.
Copyright FREEL - NBC Local Media