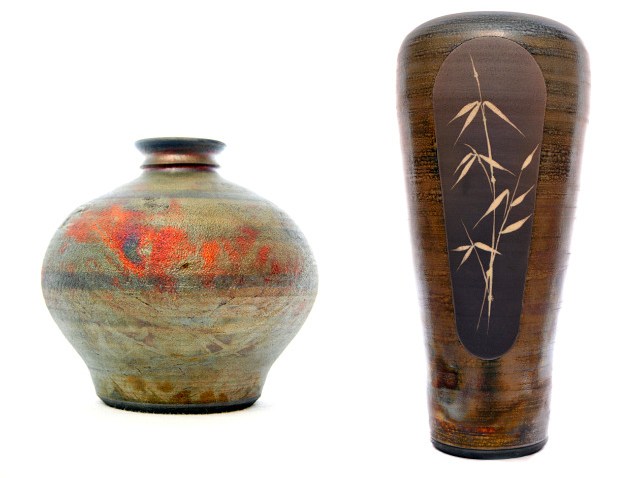 Hair brushed from a Chincoteague pony's mane, sugar, clay, a smooth stone or spoon and scorching heat are the main ingredients.

Combined with Japanese and Native American techniques, the hairs sizzle in sharp lines across glowing hot Raku pottery freshly removed from a galvanized trash can kiln. Spatters of sugar leave flared black spots, flashes of fire frozen in time.

"It works best at that magic four to five minutes after taking the piece out of the kiln," said Mike Meyers, a retired Navy veteran and one artist among many featured in a weeklong show at the Art Institute & Gallery in downtown Salisbury.

"The temperature has to be just right, or else the hairs will just disappear or not leave a mark," he says.

Sometimes, while the piece is still hot, it's dropped in an oxygen reduction chamber. This is another galvanized trash can filled with straw, sawdust or newspaper. The hot pottery instantly ignites the combustible material inside and with the can's lid on top, all the oxygen is quickly eaten up by the fire.

One of Meyers' pieces uses a copper-based glaze. In the reduction chamber, the glaze takes on a spectrum of colors, like those of superheated metal or oil on a parking lot after rain.

"You never know what you're going to get; it's unpredictable," Meyers said, burnishing an incomplete piece with a stone. "If you pull two identical pieces out five seconds apart, you'll have two completely different patterns."

Next to him, his wife, Carol Meyers, puts the finishing touches on a cookie jar shaped like a dog. While Mike Meyers has only been creating pottery for about 10 years, Carol has been doing it for 25.

"He picked it up relatively recently and was better than me right away. He was just a natural," she said, admitting the comparison is questionable because of their very different styles. "I started when we lived on an Army base in Germany. It had a craft shop with an Irish potter who taught GIs or their wives. She didn't like Americans and wanted to keep me out of it. But I'm not that kind of person and if I want to do something, I'll do it hell or high water. After a while, she realized she'd have to give in. Eventually, I ended up teaching the class."

At an adjacent demonstration table, Ingrid Barnes sculpts tiny girls accompanied by geese and hedgehogs. She imprints textures in their clay clothes by pressing the material against lace.

"I grew up in Cologne, Germany. But now I live outside Washington, D.C.," she said, explaining how she became involved with the Eastern Shore Clay Guild that produced the AI&G show while attending one of their beachside events called Clay, Fire and Sand. With a vacation home in Bethany Beach, Barnes said she attends as many guild events as she can.

She said her interest in the animals was piqued while staying with her grandmother in the countryside. There she remembers watching tiny hedgehogs marching in single file.

Having put on shows in the Smithsonian and won awards for her miniature work, Barnes said her favorite method is actually throwing on a wheel.

In another room, Ernie Satchell, who spent 39 years teaching ceramics and sculpture at University of Maryland Eastern Shore, demonstrates this technique.

Placing a lump of clay on the wheel, he sets it spinning and presses his hand against it to center it. He the dips two fingers into the center, and the clay instantly expands and opens up.

"It's like an ironing board and an iron," he said, as the lump of clay seems to magically rise in height around his fingers. "You have to keep one hand flat and move the other to smooth it out."

Out on the gallery floor, one of his towering vases sits priced at $1,500. Other pieces are priced at closer to $35. The range in costs is matched by the array of techniques on exhibit.

With works on display priced in the midrange, Robert Johnson teaches pottery classes at AI&G and serves as a head 3-D art technician at Salisbury University. And yes, he says, he does play blues guitar and has the same birthday as the legendary musician he shares a name with.

"This is the only visual arts center in the area that can supply the community with affordable classes," Johnson said.

"I've been teaching kids and adults, and we take all skill levels. People need an outlet, and there aren't a lot of nonprofit organizations that do free workshops like AI&G. It's exciting helping people find their voice in clay."

The show featuring Johnson, Meyers, Barnes and Satchell, among many others, will continue at the AI&G building for the rest of the week. Photos from the 2010 Salisbury Photo Walk are also currently on display.
---
Let's Go Around Town: Keep up with what's happening in the D.C. area anytime, anywhere. Follow us on Twitter and Facebook. Sign up for our e-mail newsletters and find out What You're Doing Tonight with texts delivered right to your mobile phone -- just text DCTONIGHT to 622339 to sign up. (Message and data rates may apply.) Don't forget our iPhone app!
Copyright AP - Associated Press