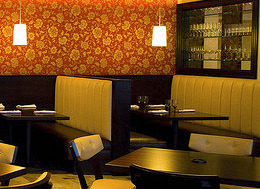 There's something almost ritualistic in having Mom's meatloaf on Mondays and a substantial dish involving tomato sauce on Wednesdays. And sometimes that need supersedes the desire to actually make it yourself. That's where Ris (2275 L St. N.W.) comes in handy. With a debut in December, the long-awaited establishment is now serving up impressive dishes of hearty American fare.

The whiz behind 1789 Restaurant (and a former Food Network "Iron Chef" contestant), Ris Lacoste finally has an outpost to call her own. A simple dining room feels like an intimate den adorned with bold-colored tapestries, but what really stands out, of course, is the food.

Lacoste's newest venture has allowed her Northeastern roots to peek out from a seasonal menu laced with the inventive, like the Nantucket Bay Scallops Margarita (served with tequila ice, it's delish) and the grilled Portuguese skirt steak. There really is meatloaf offered on Monday nights (it sells out fast) and Wednesday is Italian Night with a pasta special of some sort.

Some other standout dishes? A steaming bowl of mussels in a white wine broth filled with chorizo and warm flatbread for dipping is heaven. The cider-glazed pork chop left us pining for more (beg for an extra side of cornbread pudding) and the soy-lacquered salmon not only sounded amazing, but looked and tasted incredible served up in a broth of bok choy and jasmine rice.

To our right, a first-date couple was oohing and aahing over the pan-fried sole with lemon (fancy name: Sole à la Meunière). A lively crowd filled the 12-seat bar up front, busy digging into cheeseburgers with "special sauce" and heavenly fragrant plates of mushroom pappardelle.

If you can't get enough at dinner, Ris is also open for lunch and brunch when you may also find a shorter wait list for one of the highly coveted booths.