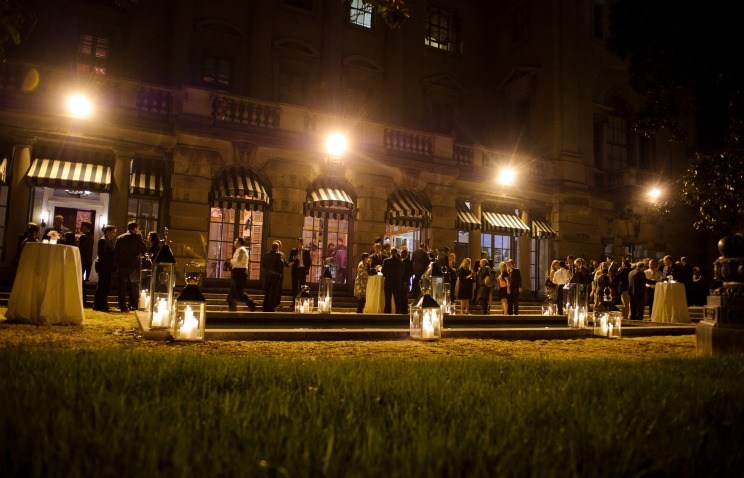 In an economically challenged world, the recession was nowhere in sight at the elegant soiree hosted by the Financial Times at the historic Anderson House, the Beaux Arts mansion located in Dupont Circle.

Depending on what time they arrived, guests dined on mushroom strudel, fennel lamb on rosemary skewers, Peking duck and Thai tofu rolls -- or Laduree-style macaroons, baked Alaska brownie sticks and FT Pink marshmallows half dipped in coconut, half plain. All complemented the Moet Hennessey Brut and Rose Champagne, which flowed freely.

The Financial Times' "Meet the Editor" reception was hosted by Editor Lionel Barber and U.S. Managing Editor Gillian Tett, in honor of the FT's new Washington bureau chief, Richard McGregor.

"This is a rather strange setting," said Barber. "I think it tells you, first of all, that the Financial Times is only prepared to take the policies of austerity only so far...."

No one seemed to mind the lavish party, especially since many of the guests were economic reporters tired after working 24/7 after Congress' threatened government shutdown.

The A-list crowd included NBC's Andrea Mitchell and her husband, economic policy wonk Allen Greenspan, along with Singapore Ambassador to the U.S. Heng-Chee Chan; Sen. Kristin and Jonathan Gillibrand; MSNBC's Karen Finney; Sally Quinn; Grover Norquist; The Washington Post's Marcus Brauchli and author Richard Wolfe -- to name a few.

"I would like to salute and give tribute to the president in the United States," said Barber. "[Meaning], the president of the Financial Times in America, who paid for this party."