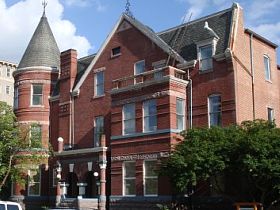 This is the true story... of Chinese prison work camps.

The D.C. house that served as the setting for MTV's Real World in is about to get a new tenant. The Laogai Museum will be relocating from Logan Circle to the house at 2000 S St. N.W., reports the42bus.blogspot.com.

The mission of the museum, as described on its website, is "to confront the tragic legacy of China's laogai system of forced labor prisons."

The Dupont Circle address was host to the MTV reality show in the summer of 2009. The house's occupants spent copious amounts time in a hot tub and often worried about relationship problems.
The museum, which will be housed on the ground floor, is expected to open in spring 2011. The upper floors have been converted into offices. Laogai's website is documenting the building process with photos and blog posts.
---
Check Out the Scene: Keep up with what's happening in the D.C. area anytime, anywhere. Follow us on Twitter and Facebook. Sign up for our e-mail newsletters. Don't forget our iPhone app!