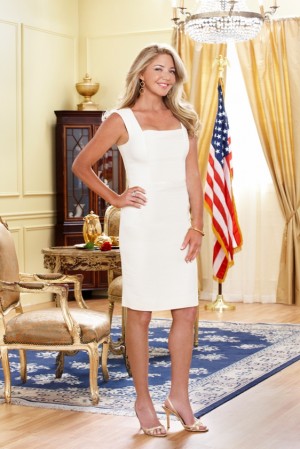 Just days before Thursday's "Real Housewives of D.C." reunion show, star Mary Amons spoke with Niteside about what to expect. Fans are advised to tune in, as the gloves come completely off.
How has your life changed since the show aired? You know it's something you can't really prepare yourself for; it's kind of surreal. I love interacting with people so it's been nothing but pleasant for my family and me.

Did your kids love seeing themselves on TV? They did, although it can be kind of a strange thing seeing your family on television with the world listening to our conversations. I think the producers did a great job of telling our story as a normal family with challenges and struggles who take it day by day.

What do you say to all the criticism that "D.C. Housewives" isn't as entertaining as the other housewives series? I actually take it as a compliment. I think our drama was different. I think women in D.C. just don't behave like many of the other women on the other shows. I know that Bravo had deliberate intentions of casting a different vibe for our show. Also, personally, I'm not confrontational and neither are any of the other cast members.

Who were you the closest to before the show started and are you still close to them? Lynda [Erkiletian] and I have been dear friends for years. The show has made us even closer. I think when you go through an experience like we have, and really commit to just being yourselves, you can only grow closer. We've had our moments over the last year, but we're always open and honest with each other. I've also become extremely close to Cat [Ommanney]. We met the summer before we started filming. We're friends for life.

Did it bother you that much of the hype surrounding the show before and while it aired was about the Salahis? Well, I have to say I don't think it was fair. I don't think anyone could have predicted that occurring. It was a bit disappointing. In the end, a lot of the good core stuff that was a part of our stories was eliminated because of the Salahis and what they did.

Has your view changed of Michaele Salahi since she announced she had multiple sclerosis? No, however my heart does go out to her if she actually does in fact have it and I told her that.

What can viewers look forward to on the reunion show this week? You can look forward to the cast speaking their minds. I actually kind of shocked myself, even; I jumped in there and expressed my opinions. Viewers will be surprised.

Will there be a second season? I hope so, but I don't know.

Would you ever do another reality show? No, this is it for reality TV shows. However, I would really like to pursue a career in television. I'm a people person and I love being a voice for women. I definitely aspire to have my own talk show some day.

What's next for you? I'm going to continue working hard for my charity, Labels for Love. We have a big event coming up in November to raise money for early detection and awareness of women's cancer.
If you were approached today to do "Housewives," would you do it all over again? Yes, in a second!