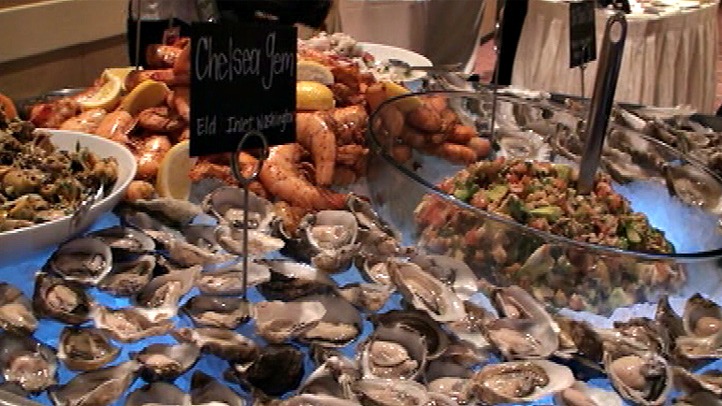 Tasting stations from Graffiato, Hill Country, Pearl Dive Oyster Bar and more set the scene at a party for the 2012 RAMMY Award nominees Monday night at the Ritz Cartlon.

The RAMMYs, the local food "Oscars" from Restaurant Association Metropolitan Washington, are awarded each year in categories such as Chef of the Year, Best New Restaurant and Mixology/Beverage Program of the Year.
Coincidentally (OK, not so much), the mixology nominees kept the cocktails flowing during the reception. Restaurant Eve's Todd Thrasher poured out his offering so enthusiastically that he jokingly refilled Justin Bittner's glass to the point of overflowing each time he took a sip.
Now that's a party.
The Best New Restaurant nominees kept the crowd well-fed, with burrata from Graffiato, a self-serve raw bar from Pearl Dive, and pork belly with fresh cucumber from Hill Country. Enzo Fargione of Elisir Restaurant served up Italian "sushi" with a fresh melon chaser.
As for other nominations: Bourbon Steak, Marcel's and Rasika garnered nods for Fine Dining Restaurant of the Year, while Justin Bittner (Bar Pilar) and Adam Sobel (Bourbon Steak) are up for Rising Culinary Star of the Year.
The RAMMY Awards will be held June 24 at the Marriott Wardman Park Hotel.
The public will determine the winners in three categories: Neighborhood Gathering Place, Hottest Restaurant Bar Scene and Power Spot of the Year. You can vote on the CityPaper website, as well as finalists' websites and RAMW.org, from April 12 to 29.

Check out some more nominees below:

Fine Dining Restaurant of the Year
The Ashby Inn & Restaurant
Bourbon Steak
Marcel's
The Oval Room
Rasika

Upscale Casual Restaurant of the Year
Bibiana
Birch & Barley
BlackSalt Fish Market & Restaurant
Oyamel
Proof

New Restaurant of the Year
Elisir Restaurant by Enzo Fargione
Fiola
Graffiato
Hill Country Barbecue Market
Pearl Dive Oyster Palace

Chef of the Year
Anthony Chittum - Vermilion
Tony Conte - The Oval Room
Haidar Karoum - Proof
Kaz Okochi - Kaz Sushi Bistro
Vikram Sunderam - Rasika

Power Spot of the Year
701 Restaurant
Founding Farmers - DC
The Oval Room
The Source by Wolfgang Puck
Tosca Ristorante
See the rest here.
---
Check Out the Scene: Keep up with what's happening in the D.C. area anytime, anywhere. Follow us on Twitter and Facebook. Sign up for our e-mail newsletters.