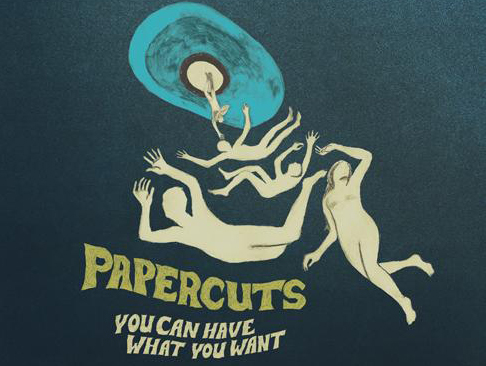 With "You Can Have What You Want" Jason Quever's Papercuts have crafted another beautiful and subtly impressive work. Unlike his prior LPs, this one's not quite as sunny. While the former had a sunny and serene late spring feel, Quever seems to have moved to the sadder weather of late September. The analog production gives it a ramshackle vibe and also seems to take it closer to the '60s California psychedelic pop it leans heaviest upon. The fact that the music barely varies in tempo or mood limits when a listener might listen. It's not something I'll listen to if I'm sad, not something I'll listen to if I'm happy, but maybe something I'll listen to if I'm sad and feel like being happy or if I'm happy and feel like being sad.
Guitars a little bit shoegazey, a little bit psychedelic folk; mid-tempo bass; and gentle, shuffling percussion all bow to organ akin to that of Yo La Tengo on their slower, dreamier work. His friends and sometime collaborators Beach House also come to mind. Down in the mix are Quever's quivering, high and sweet vocals, beautiful and limited in range -- limited enough not be thrust to the fore, though pretty enough to deserve that place.
As for the mood, take the title track. Though he sings "you can have what you want," you know he doesn't believe it. Opening track "Once We Walked in the Sunlight" conveys a similar mood: a summery wistfulness. And on "The Machine Will Tell Us So," the chorus sounds hopeful, but that title lyric tells us everything's out of our hands.
"Jet Plane" breaks form with an acoustic guitar intro but quickly returns to the familiar garage-rock-on-Nyquil territory that dominates the album, and though it's apparently an obscure tale featuring astronauts, it's also a lamenting goodbye song. "Dead Love" follows, and it has more bounce than any track on the record, but its theme follows the title from the get: "Who needs this dead love in the ground? I guess it was all just a waste." "Future Primative" doesn't stray from the pattern -- again, '60s garage rock with the edge off, maybe lost to '90s indie slacker Prozac -- but it's a more haunting sound. Maybe "The Void" should have been the title track. Those two words better describe the vibe than any other song title on the record. It starts slow and down before building up to the kind of wistfulness that characterizes the record as a whole.
If you have the patience to spend 40 minutes listening to ethereal, quietly shimmering pop, or if Beach House or the subdued, dreamier side of Yo La Tengo is your Yo La Tengo side of choice, you'll find a good companion in "You Can Have What You Want."
Papercuts open for the San Francisco buddies Vetiver Saturday night at Iota.