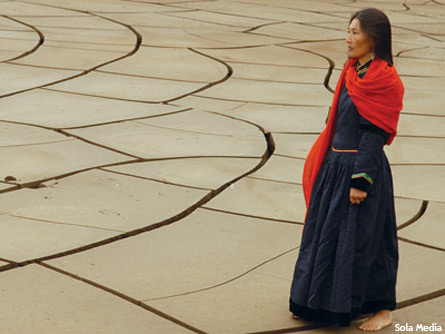 "The Story of the Weeping Camel" is one of the most beautiful documentaries of the nomadic people of Mongolia. Now, that filmmaker has come out with "The Two Horses of Genghis Khan," which premiers Thursday night at the DC Environmental Film Festival.
The film takes you into the wild landscape of inner and outer Mongolia, as a young woman seeks to fulfill a promise to her grandmother.
Check it out at 7 p.m. at the National Geographic Society. Tickets are $8 for the film, which is 91 minutes long.
Also showing:
"Moving Midway" 98 mins. 6:30 p.m. The National Building Museum.. Tickets are $12. A discussion with fimmaker Godfrey Cheshire follows.
"Terra Madre" 78 mins. 7 p.m. E Street Cinema. Tickets are $10.
Meet the artist: John Gerrard. 7 p.m. Hirshhorn Museum and Sculpture Garden. An artist's perspective of the American landscape and the impact human consumption has had on the environment.