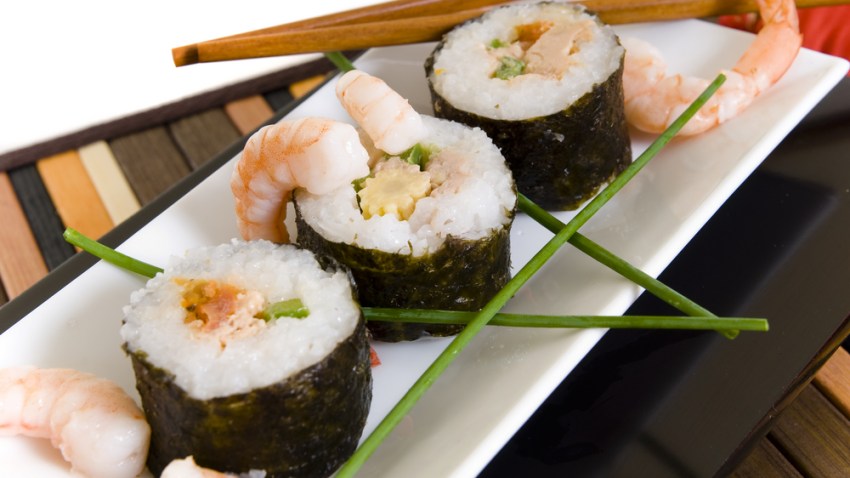 Curious to see how my favorite eateries rate, I browsed the local ZagatSurvey restaurant guide at the Williams-Sonoma check out desk. I was waiting while my husband bought a kitchen gadget only he will use. He actually enjoys the act and art of cooking while my best recipe is the bitch 'n bake; that is I bitch about having to cook while I cook.
We had dinner the night before at Mikaku Sushi Taro so I looked it up and shared with him the favorable comments it received. "Is that really a good sushi place?" the cashier asked. My husband, who does not readily engage in chitchat, launched into a detailed five star review and told the cashier she must dine there that evening.
Mikaku in Japanese means "sense of taste." Something I have if you're talking fashion but not food. I'll eat anywhere if someone else is cooking, serving and doing the dishes. On the flip side, my dearest does not tread lightly into dining establishments. He prefers to prepare his own meals so the exact specifications of preparation are known.
Mikaku Sushi Taro enlightened us both and is now our Zen dining experience. It's tucked away in a Herndon strip mall but the encroaching suburbs fade away at the door as your attention turns to the light-filled, soothing interior. The staff greets you quickly and the friendly acknowledgment from the sushi chef behind the counter makes you feel welcome.
I appreciate Mikaku because it makes the customary extraordinary; delicious green tea served in rustic potted teacups, ever-so-lightly battered tempura, and the waiter who hands you a spoon or places it on a napkin rather than putting it on the table. The food is always fresh, consistent and even comforting. A bowl of miso soup can offer solace during a cold or after a bad day. But really the sushi is the showstopper; it tastes great and is presented beautifully. It ranks as the best in Northern Virginia by my friends and family and has received high marks in a myriad of online reviews. Truly this place is authentic.
In fact, Japanese etiquette is upheld in the private dining area where you must remove your shoes before entering. I reserved this modified tearoom for my husband's birthday one year and found it was the perfect setting for our intimate dinner party with family. Once you go behind the shoji screen, you'll find a tranquil place where dinner is served around a large sunken table with pillow seating.
Mikaku is moderately priced with entrees ranging between $10-$25. The private room seats up to ten people and there's a $30 minimum per person. The restaurant is family-friendly and open for lunch and dinner every day except Mondays.
Mikaku Sushi Taro
3065 Centreville Road
Herndon, VA 20171
703-467-0220
More For Locals Only