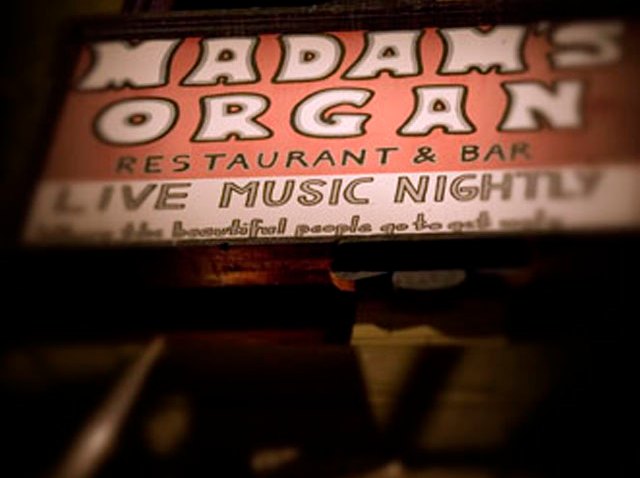 It's a little after 2 a.m. outside the Woodley Park Metro station, just a short stumble from the bars and nightclubs of Adams Morgan.
"We were hanging out at Habana!" says one reveler. "Si, claro que si!"
The mood here is celebratory. But when the riders learn that Metro might be moving back its last call on weekends, things quickly sober up.
"That is absolutely ridiculous," says one rider. "I don't like that, how am I gonna get home?" asks another.
Cassandra Kisette, a Virginia resident, says she would stay closer to home, "And I would not come to D.C."
It's that last comment that makes people like Bill Duggan very nervous. "It's insane," he says. "It makes no sense. Somebody should be embarrassed."
Duggan is the proprietor of the bar Madam's Organ.
Everything you need to know about Madam's Organ is summed up in the objects decorating its walls. They alternate between semi-professional nude paintings and the taxidermied heads of buffalos, boars and cheetahs.
"I tell people that this bar is a great mix of naked women and dead animals," says Duggan.
Madam's Organ is just one of the nearly two dozen establishments in Adams Morgan that hold liquor licenses.
"At midnight here on a weekend night, the second of three sets of music are just about to start," says Duggan. "Midnight is really right when things are getting rolling in this neighborhood."
But if that's when Metro trains stop running, midnight might be when things come to a screeching halt. And Duggan says that could ruin him.
"On the weekends," he says, "between 12 and three, I would say that we probably do 50 percent of our business."
Jim Hughes is the man responsible for putting this proposal on the table. He's the Director of Operations Planning at Metro. Hughes says his team looked for cuts that affected the least number of riders.
"Our late night service -- Friday night and Saturday night -- as it gets later in the evening, we carry less and less people," he says.
Hughes says eliminating late night train service on weekends would create more time to do track maintenance. And while Metro estimates the earlier closing time would cost it some 800,000 riders, Metro would save more than $6 million a year.
"It's not something we necessarily want to do," says Hughes. "But it is something we do in times of budget crisis."
But Duggan says there could be a huge hidden cost to D.C.'s newly vibrant neighborhoods.
"U Street, H Street, Adams Morgan," he says. "All these areas are driven by the hospitality industry. That's what gets the neighborhoods going and that's the economic piston that's driving this thing. And I think that they'll grind the wheels to a halt."
If that happens, the fallout wouldn't be limited to Adams Morgan. The pain would be felt anywhere restaurants and bars are clustered near Metro stations, places like U Street, Chinatown, Dupont Circle -- even some suburban areas like Clarendon and Bethesda. It's a move that could be detrimental to many businesses, especially if it prompts the region's night crawlers to spend their evenings at home.
Listen to the complete story at wamu.org
Copyright 2010 WAMU 88.5 - American University Radio. All Rights Reserved.
Copyright WAMUo - WAMU