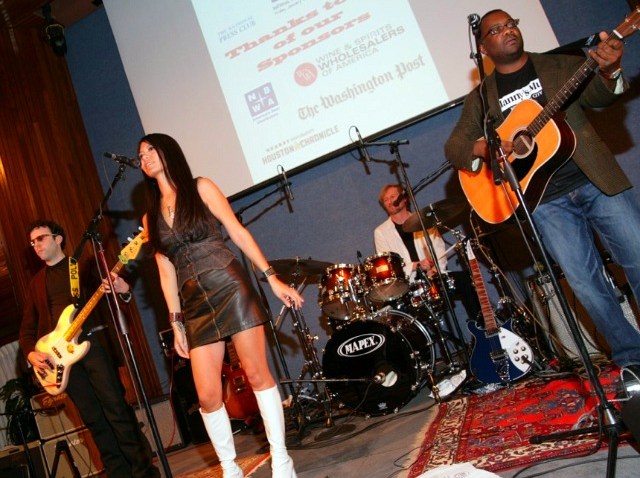 A lineup of musical media acts performed Friday night at Journopalooza, a cutthroat -- but charitable -- competition for the title of D.C.'s Best Media Band. Winning group Suspicious Package consists of Plump Concepts' Tim Burger, The Washington Post's Tom Toles, The L.A. Times' Josh Meyer, HUD's Bryan Greene and USTR's Christina Sevilla.
This year's Journopalooza was the biggest yet, but the first that was an actual competition. Seven bands fought for the title, including Nobody's Business and the Charm Offensive.
"You never know how something like that will turn out for one individual band, and it's hard to know if the stage monitors reflect what the audience is hearing when you're on," said Suspicious Package heartthrob Tim Burger.
"But it felt like we hit a pretty good groove and the sound guys had done a nice setup and mixing job, so overall we had a good night. But what obviously made it for us, getting us pumped up and in the pocket, were our loyal friends and fans who showed in force -- and we thank them!"
And Burger shared the credit all around for Journopalooza's winning night, saying all the bands benefited from organizer Christina Davidson running "a tight ship -- and Nobody's Business guitarist Jon Landay meticulously mapped out the staging and equipment sharing -- and kept things pretty well on schedule, [which was] no easy task with the logistical quagmire such events present."
The event raised about $34,000 for Reporters Without Borders, CPJ Journalist Assistance Program, and the Eric Friedheim National Journalism Library. -- "everyone wins," Burger said.