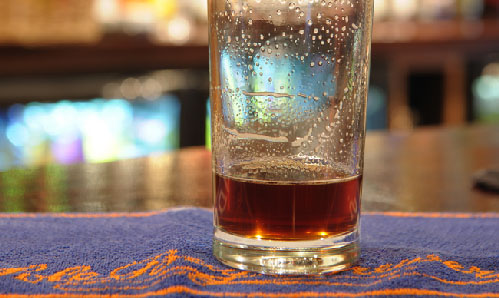 The average Joe among the mass of yuppie-chic bars that dot it's Downtown neighborhood, Laughing Man Tavern wears its non-style with pride.
Two unadorned floors feature a few intimate bars, a jukebox that plays Top-40 hits, booths, and enough room to actually stretch out and enjoy your drink. Drinks and bar food run cheap from 3-7 p.m, with premium drafts, rail drinks, house wines, and a number of plates, like calamari and roasted red pepper crab dip, for $4.
Although the tavern has had a growing number of denizens since its opening in January, you won't find any crowds or pretensions, making it a perfect late night destination for thirsty businessmen who are simply looking to put up their boots and have a drink in peace.
Laughing Man Tavern
1306 G Street, NW
Washington, D.C.
202-737-1797



More For Locals Only
• Find a Restaurant: click here
• Get Your Drink/Dance on: click here
• Quench Your Thirst With Our Happy Hour Guide: click here
• Eat Cheap in DC: click here
• Plan Your Night With Our Event Calendar: click here
• Music Snob's Concert Picks: click here
• Watch Our Celebrity Interviews click here
• Listen to Bands Perform Live in Our Studio click here