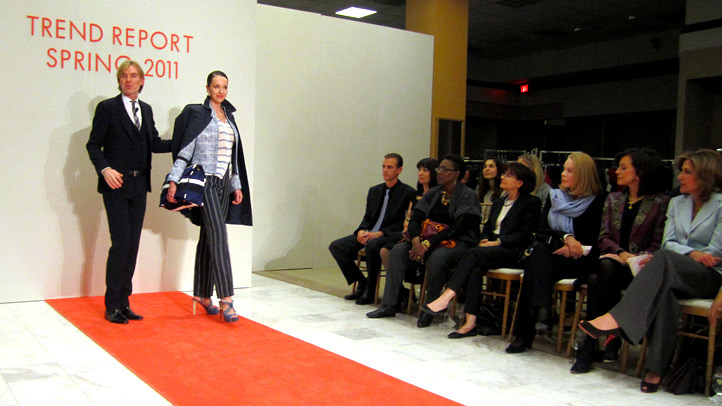 Washingtonians have been ramping up their style quotient in the past few years -- but there's always room for a bit of professional help.
Neiman Marcus Fashion Director Ken Downing flew in from the fall shows in Paris to give the Distict a more time-conscious Spring 2011 trend showcase, focusing on stripes, colorblocking, lace and bohemian patterns and cuts.
"If you came to see your neighbors leaving with the kids for soccer practice, leave now, because that's not what I'm going to show you tonight!" said Downing before the start of the show, a charity fundraiser for the Children's National Medical Center.
"Behaving to me is not behaving," he argued, suggesting statement jewelry pieces as an example. "I love mixing real jewelry with costume jewelry. Your costume jewelry loves being seen with real jewelry, and your real jewelry loves the entertainment of costume jewelry. I call it the good girl/bad boy [effect]...."
As the models strutted down a coral carpet -- Downing's predicted hot color of the season -- he shared stories of his travel escapades with famous designers and lessons learned from his own fashionable mom.
"Colors that our mothers told us not to wear together are the colors you should wear for spring," he said. "But wear everything you love and enjoy it with confidence."
"I believe more is more and less is a bore."