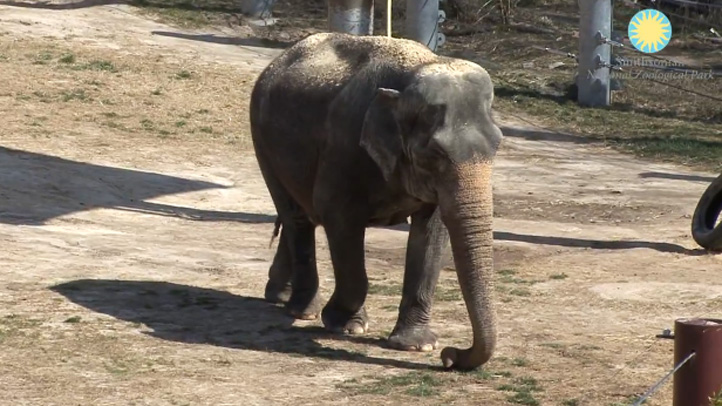 Not one to let the pandas steal all the spotlight for their painting prowess and, um, artificial insemination attempts, an elephant at the National Zoo is developing her musical talents.
Shanthi, a 36-year-old Asian elephant, is playing a harmonica and other instruments left within the reach of her trunk.
Do we really need to spell out that this is perhaps the best thing ever?
In a YouTube video posted Wednesday by the National Zoo, Shanthi demonstrates her skills, playing a harmonica that's attached to the door of her stall.
Elephant keeper Debbie Flinkman says she plays tunes even when no humans are around. Recently, they were giving another elephant a bath when they overheard Shanthi playing enthusiastically.

"I think what's really amazing with the little ditties that Shanthi comes up with is that, musically, they really do have a beginning, middle and end," Flinkman said in the YouTube video.
"They have a repetitive part that has some beat you could actually follow, and it has a big crescendo at the end. And we all know that there's going to be a crescendo," she said.

Shanthi seems to be musically inclined -- she also likes to tap things, flap her ears against objects to make noise and rub her leg against shrubs to repeat noises.

Shanthi was a gift from Sri Lanka and is the mother of 10-year-old Kandula. No word on whether Kandula is following in her musical footsteps.
---
Check Out the Scene: Keep up with what's happening in the D.C. area anytime, anywhere. Follow us on Twitter and Facebook. Sign up for our e-mail newsletters.
Copyright AP - Associated Press