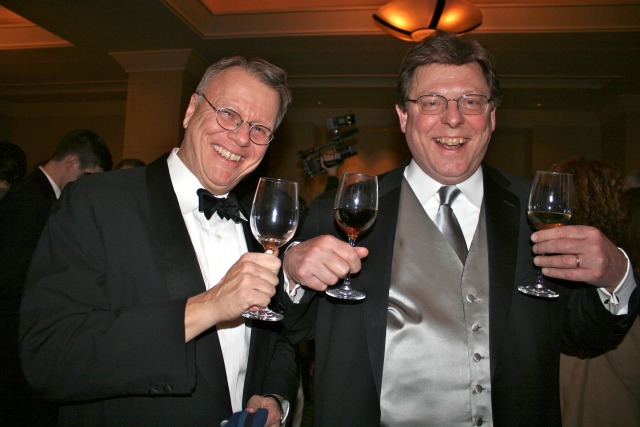 Shirts off to Rep. Chris Lee (R-N.Y.) for keeping everyone's Tweetdecks buzzing at the Washington Press Club Foundation's 67th Annual Congressional Dinner.
It's being called the "speed scandal."
If you were on your way to The Mandarin Hotel last night, by the time you got there you already knew that Rep. Chris Lee (R-N.Y.) had abruptly resigned from Congress after Gawker.com revealed he had sent a shirtless photo to a woman in response to a Craigslist ad.
This was shortly confirmed by Lee himself, who issued the usual message about regretting the harm caused, being deeply apologetic, seeking forgiveness, yadda, yadda, yadda. If you hurry, you can still sign up for Lee's newsletter here, which includes his Washington "Waste Watch" column. (We agree.)
Staffers from The Hill newspaper were a bit remorseful that Lee had not been included in their 50 Most Beautiful People on the Hill 2010 issue; think of all the new click-throughs.
Most dinner guests agreed he looked hot in the photos; others think there is much more to this story -- after all, who in Congress would resign over such a little thing as a shirtless photo?
Rep. Debbie Wasserman Schultz (D-Fla.) was delighted and amazed to report that her good friend Gabrielle Giffords (D-Ariz.), who was shot during the massacre in Tucson, was recovering at amazing speed. Wasserman was in the room when Rep. Giffords spoke for the first time. Apparently Giffords decided that hospital oatmeal for breakfast wouldn't do it for her and promptly asked for toast.

Bonnie Angelo, who received the Lifetime Achievement Award during the dinner event, got the biggest round of applause in an otherwise lengthly program. If we had to clock her speech, we would put it at under a minute.

Meanwhile, Egyptian President Hosni Mubarak is expected to step down tonight and hand over power to his newly appointed vice president Omar Suleiman, even though there are no shirtless photos out there that we know of.

As for "Fun, Fit and Classy" -- that's how Rep. Lee described himself in his Craigslist post... maybe an "Eat, Pray, Love" for 2011. But we hope not.