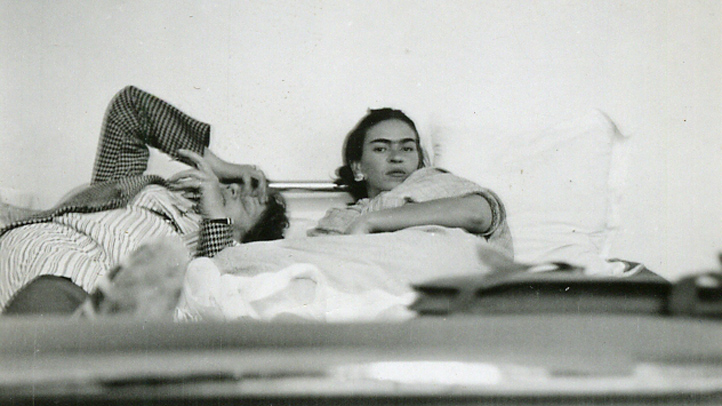 For the first and only time in the United States, the exhibit "Frida Kahlo: Her Photos" is now on display. The exhibit at the Artisphere (1101 Wilson Blvd, Arlington, Va.) features 240 pictures from Kahlo's personal collection, previously only viewable at the Frida Kahlo Museum in Mexico.
The art center had been in talks to showcase the exhibit since October 2010.
"The first initial spark for us to bring the exhibition to the United States is because we are sister cities with [Kahlo's hometown] Coyoacan," said the Artisphere's Annalisa Meyer, communications and marketing director.
Coyoacan, Mexico, is where the famed, and tormented, Mexican painter lived and died -- in the Blue House (Casa Azul) now known as the Frida Kahlo Museum.
Through the support of several partners, including the Embassy of Mexico, The Mexican Cultural Institute, and The Frida Kahlo Museum, the exhibit finally came to the States at the beginning of this year.
The exhibit is free and open to the public, and includes six rooms of photographs, each room showcasing a significant period in Kahlo's life.
The six sections -- The Origins, The Blue House, The Broken Body, Loves, Photography and Diego's Eye -- were designed by museum curator Pablo Ortiz Monasterio when the original exhibit opened in 2007.
He had the painstaking task of going through Kahlo's more than 6,500 photographs, which had been hidden away for more than 50 years before the release.
Meyer said that Monasterio "really looked at selecting the images that would give the most insight into Frida." The collection was divided into six rooms because the photos were literally found in six separate rooms of Kahlo's home.
The collection includes family snapshots and pictures taken with lovers, plus images that offer insight into her relationships with Leon Trotsky, Georgia O'Keefe and actress Dolores del Rio, among others.
The photos are not the originals, but instead carefully reproduced facsimiles of those owned by the Frida Kahlo Museum and Banco de Mexico -- right down to the fading and cracks
The exhibit also features related programming, including the critically aclaimed and Indie Music Award winner Mexican Institute of Sound; 2011 Spanish Music Award winner for Best New Act La Shica, and "Irish Mariachi" artist Rana Santacruz, among others.
"[We wanted] an array of programming that celebrates Mexican American and Latino artists," said Meyer, because Kahlo was very proud of her Mexican herritage.
These extra events require tickets -- see ticket and pricing info here. Artisphere offers free parking on weekends and on weekday evenings after 5 p.m.
The exhibit is on display through March 25.