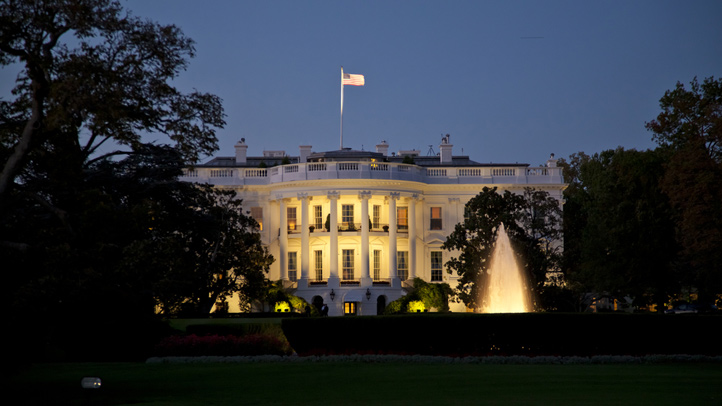 An all-star roster of guests helped Barack Obama celebrate the big 5-0 Thursday night, but when it came to the general public, it was a surprise party.
"The politically unfortunate optics of throwing a big 50th birthday party for President Obama when his poll numbers are dropping as fast as the stock market were not lost on the White House," the blog Obamafoodorama noted, "so the President's shindig was not listed on his official Thursday schedule, and it was closed to press."
The first couple paid for the party out of their own pockets, according to a White House aide, Obama Foodorama reported.

Big names on the guest list included Jay-Z, Chris Rock, Tom Hanks and Rita Wilson, Whoopi Goldberg, basketball stars Charles Barkley and Grant Hill, and Oprah's BFF Gayle King. Actor Hill Harper of "CSI: NY" was also there -- he just happens to be one of Obama's Harvard Law buddies.

The party kicked off with dinner and dessert in the Rose Garden before moving into the East Room for music. Herbie Hancock and Stevie Wonder both performed, as did R&B singer Ledisi.
"The president encouraged everyone to dance -- and they did," Politico reported. "Lots of kids were on hand and they stole the show as they danced in the center of the East Room.

And then things got electric. As in, Electric Slide electric: "Just left the Presidents birthday party at the White House. Herbie Hancock played, Stevie Wonder sang and yes they did the electric slide. A great night," Chris Rock later tweeted.

The Obama daughters were there to party, as well as grandma Marian Robinson, and a list of attending politicos included Senate Minority Leader Harry Reid, House Minority Leader Nancy Pelosi, DNC chairwoman Rep. Debbie Wasserman Schultz, Secretary of State Hillary Clinton, advisor Valerie Jarrett, and former governors Bill Richardson and Tim Kaine.

More details from Obamafoodorama below:
There was "not a tie in sight" for the birthday dinner, according to one guest; men wore light summer-weight button downs and trousers, and women were attired in summer dresses -- many taking their fashion cue from Mrs. Obama, and going sleeveless.

Dinner was grilled chicken and steak, and Chicago-style hot dogs, with salad made with fresh greens plucked from Mrs. Obama's Kitchen Garden, as well as vegetable sides, accompanied by American wines. Tables were covered with simple gray cloths, and anchored by sprays of yellow flowers and greens. There was birthday cake, of course, and pie.
---
Check Out the Scene: Keep up with what's happening in the D.C. area anytime, anywhere. Follow us on Twitter and Facebook. Sign up for our e-mail newsletters. Don't forget our iPhone app!