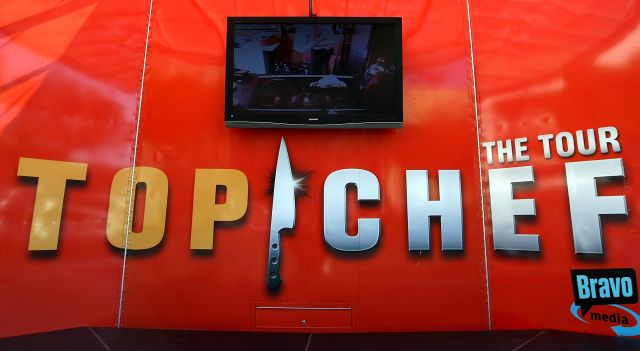 Following in the footsteps of local "Top Chef" alums Carla Hall (Alchemy Caterers) and Spike Mendelsohn (Good Stuff Eatery), two new D.C.-area chefs will be battling it out in the sixth season of foodies' favorite TV series.
Combining a cooking competition with millions of people's cable addicton, "Top Chef" pits pros in weekly "quickfire" and elimination challenges. The winner of each season receives a spread in Food & Wine magazine, a showcase in the Food & Wine Classic in Aspen, $100,000 and (natch) the title of Top Chef. The newest season, set in Vegas, baby, Vegas!, premieres Aug. 26 on Bravo.
First up for our hometown team is Bryan Voltaggio, chef and owner of the fancy-pants VOLT Restaurant in Frederick, Md. He received culinary training at the Culinary Institute of America and went on to work under famed chef Charlie Palmer. Now at VOLT, Voltaggio, 33, focuses his daily menu on the use of innovative cooking techniques and fresh, seasonal and local ingredients.
And in order to stir up the always-needed television drama, Voltaggio's younger brother, Michael, will also be a contestant on the show. Like his brother, Michael hails from nearby Frederick, but now resides in Los Angeles, where he is Chef de Cuisine at Bazaar by Jose Andres.
Next up for the D.C. team is Michael Isabella, Executive Chef of Zaytinya. Also owned by Jose Andres, Zaytinya is known for its delectable Greek and Mediterranean tapas. Chef Isabella is self-taught, but has worked at many fine dining spots in both NYC and Philadelphia. He learned the flavors and style of Greek cooking during his time at Kyna, a top establishment in Atlanta, and via travels through Greece and the Middle East.
Another "Top Chef" contestant hails from Baltimore, according to the Baltimore Sun. Jesse Sandlin is the executive chef of Abacrombie.
If your vacation turns into one of those bummer "staycations" we've been hearing so much about, be sure to tune into the show this August. Both Spike and Carla fell short (despite cracking the top five), so we're kinda hoping one of these locals will finally bring the title back to home-sweet-home D.C.