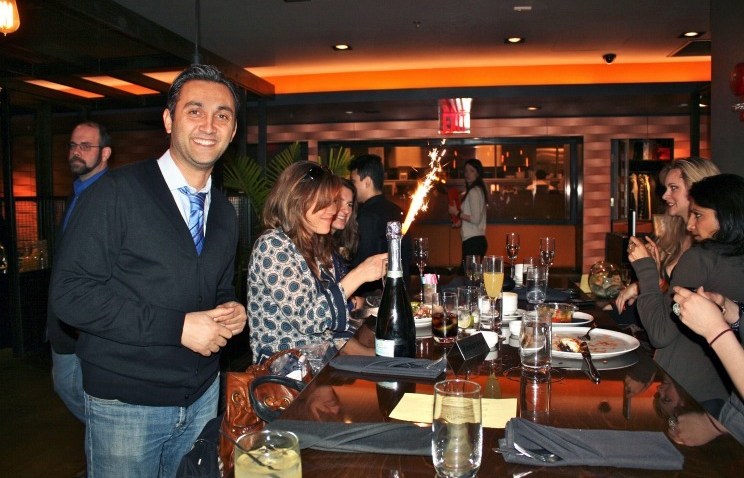 Chris Brown, Brendan Kownacki and Tommy McFly would have gotten an A+ for their Dayside Brunch at Cities on Saturday, if they could have taken credit for the hail.

"Dayside will forever be known as the brunch that caused the sky to fall," said Merge Media's Kownacki. "The weather was crazy, but I think it added to the fun."
Indeed it did. Whether the bottles of flaming champagne were planned by DJ Seyhan or were a spontaneous reaction to the mini blackout caused by the forces of Mother Nature, they added flare to the event.

The day-to-night brunch was billed as benefiting the Washington Humane Society, held a week before the Fashion for Paws gala coming up next Saturday night, April 9. Combined with a silent auction, around $5,000 was added to the WHS' coffers.

The biggest auction winners were Mark Drapeau, who walked away with two tickets to the Capitol File after-party for the White House Correspondents' dinner; Michael Kosmides grabbed two tickets to Charlie Sheen's upcoming tour through D.C.; and Dida Atassi snatched up two business class tickets to Paris, courtesy of Open Skies.

Normally, Niteside would go with the tickets to Paris -- but Charlie Sheen's winning tour? Well, that's a scalper's dream. DAR Constitution Hall (1776 D St. N.W.) is running low on tickets for the Charlie Sheen Live on April 19, also known as "Violent Torpedo of Truth, Defeat is Not an Option."

But... this just in from the Detroit Free Press:
Sheen, visibly worried that he was losing the audience, at times appeared close to becoming abrasive. He never completely fell apart, but at one point, he did tell a heckler, 'Sorry dude, already got your money.' By the time he stepped off the stage a little after 10 p.m., it was an official bomb.
We'll take Paris.