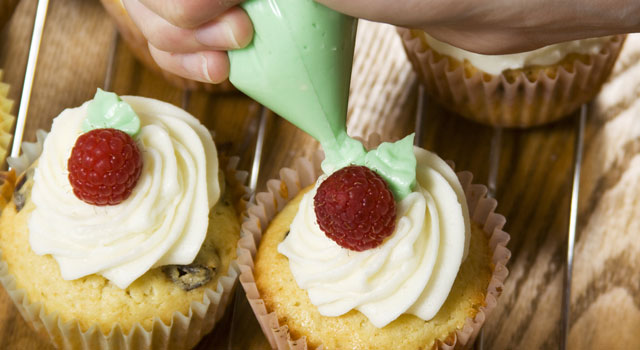 We're starting to lose count of all the cupcake spots around town. Hello Cupcake, Georgetown Cupcake, Sticky Fingers Bakery, Baked and Wired… OK, we're going to need to make this short because it's WAY too early in the morning to go on a cupcake run.

But the uber-suburbanites can get in on the craze now, too. If you're up for a (mini) road trip or are, in fact, one of those suburbanites (we're sorry), grab the chance to explore yet another new cupcake spot. Cupcakes Actually (11944 Grand Commons Ave., Fairfax, VA) opened last week, offering up the now-standard yet still dazzling array of sugary lovies, including a weekly gluten-free cupcake for the flour-impaired.

Goodies include cupcakes dipped in caramel, chocolate and peanut brittle (oh my), the Key West -- topped with a teeny slice of lime -- and the Peppermint Patty. Psst: It's OK to get two. You can claim that one is for later.

The large, light space is airy and mod, with early '60s style hanging lamps and a blue-and-white tiled counter. You probably will only have eyes for what's on that counter, though, and we can hardly blame you. Says the Web site: "These gems aren't your mom's cupcakes (no offense to your mom)." Um… did they just make a "your mom" joke? We're gonna let that one slide, but we're watching you, Cupcake Actually. Oh yes, we're watching you.