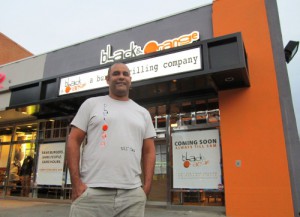 Black & Orange, the late-night burger joint formerly known as Rogue States, opens its second D.C. location tonight, this one at 1931 14th Street NW.
Before doors open to the general public, chef-owner Raymond Mendizabal will be showing off his shiny new digs to invited guests at a VIP party.
Also on display: mini versions of Mendizabal's new signature burger, exclusive to the 14th Street location. He's calling it "Hair of the Dog" -- and with good reason. Mendizabal has incorporated components of the classic Bloody Mary cocktail (tomatoes, celery, horseradish and the like) into each patty.
The accompanying condiment is also in keeping with the theme. Each dog -- er, burger -- comes topped with Worcestershire mayo. The chef recommends that you order it medium rare. "You want it bloody, man," Mendizabal tells Young & Hungry. "You want a bloody Bloody Mary."
Doors open to everyone at 11:30 p.m.
Black & Orange Debuts New Digs, New Bloody Mary Burger Tonight was originally published by Washington City Paper on Jan. 31, 2012.
Copyright CITYP - Washington City Paper