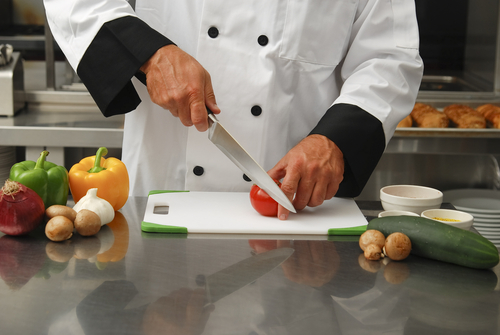 Washington, D.C., has a new top chef of the embassies. Jan Van Haute of Belgium has sliced, diced and simmered his way to the title of Embassy Chef 2010.
The Embassy Chef Challenge is a fundraiser for Cultural Tourism D.C., a nonprofit coalition promoting Washington's arts and history.
Last night at the House of Sweden, chefs from 10 embassies vied to taste sweet and savory victory. From Panama, with its vol-au-vents filled with avocado and shrimp salad, to Bahrain, with its chickpea kebob, to Belgium, which served creamed Brussels sprouts and mustard-panko crumble, along with pork-belly that chef Jan Van Haute had cooked in brown beer for 18 hours.
"We are very famous for our pork," said Van Haute. "We are a very tiny country but our No. 1 export product is pork, so, and now beer as well."
When the winner was announced, Van Haute, who's cooked for Washington's Belgian Ambassador a little more than a year, was practically speechless.
"This is just amazing," he said. "I don't have words. I almost started to cry."
But Van Haute isn't likely to shed any tears soon. In addition to earning the title of Embassy Chef 2010, he's earned a little vacation. After almost a week practicing his winning dish in the kitchen, he said he's taking the apron, clogs and day off.
Listen to the complete story at wamu.org
Copyright 2010 WAMU 88.5 - American University Radio. All Rights Reserved.
Copyright WAMUo - WAMU