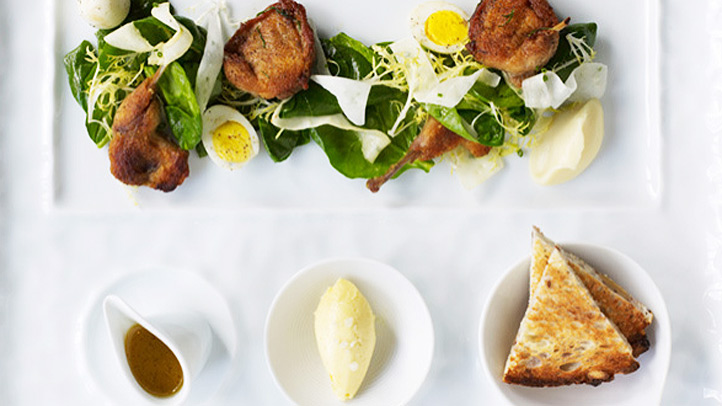 Amidst the ongoing politicization of food -- where our meals are no longer just sustenance but a sordid mix of conscience, discipline and character -- comes the new mold of ambitious young chefs.

These are the chefs who are no longer satisfied with creating a sensory experience for a meal or two. These are the chefs who want to build empires based on food, a la the celebrity chefs of Food Network: chefs such as Adam Sobel, the new chef at the helm of the Four Seasons' Bourbon Steak (2800 Pennsylvania Ave. N.W.).

Sobel calls this movement "exciting and new," and is seeking a fusion of all this city has to offer: food, art, politics and power.

Leaving Las Vegas' swirl of parties behind, Sobel came to D.C. for a chance. "No offense to Vegas," he said, "but I wanted to get back to reality, to be in a real city where I can lay roots and make an impact."

Sobel was lured by Bourbon Steak restauranteur Michael Mina, and the license to bring about vibrant, flavorful and even daringly "whimsical" changes to the Bourbon steak menu -- and hopefully the D.C. food scene.

"I love my job because it's creative," he said. "I can take the structure of [previous executive chef] Dave Varley's menu and lighten things up. I'm still going to focus on the four-legged animal, but [I'm going to] be more playful and unexpected."

Embodying this new creativity will be plates such as Scallops and Caviar, a luxurious dish fused with tangerine, califlower croquet with a liquid center, scallop, caviar and sashimi to dip.

The inspiration to generate these twists on traditional food comes from everywhere. Sobel looks to fellow chefs, museums and even musicians. "Springsteen, Rolling Stones, Zepellin, Jay-Z, Wu-Tang, Los Boys -- I'm a classic rock junkie," he said.

And after being in D.C. less than a month, Sobel managed to get to the American Art Museum twice, as well as to visit other kitchens, such as Bibiana, also run by young, ambitious chefs.

Sobel feels a connection with these other artists, and their contrasting colors and visuals help shape the foundation for his inspiration to cook, which began in his grandmother's kitchen.

They also provide a way for him to stop the perpetual motion of his life and pay attention. "I take structure and run with it. I love my job."

But the job of creating exceptional dishes won't stop in the kitchen. Sobel has ambitions to change how children eat in the kitchen -- and how seniors eat in their twilight years at community centers.

"[Older people] eat horrible food because it's convenient and because of the costs," he said. Instead, Sobel wants to create cheaper, healthier and convenient food for his cause célèbre. Of course, the main focus is the Bourbon Steak kitchen, a restaurant known for its mouth-watering dishes, decadent pastries and luxurious drinks.

If Sobel can strengthen the foundation of ensuring quality there, then the rest is sure to come. "If I do what I do, cook great food, contribute to the community, be there for my brother chefs," he said, "it will happen naturally."
---
Let's Go Around Town: Keep up with what's happening in the D.C. area anytime, anywhere. Follow us on Twitter and Facebook. Sign up for our e-mail newsletters and find out What You're Doing Tonight with texts delivered right to your mobile phone -- just text DCTONIGHT to 622339 to sign up. (Message and data rates may apply.) Don't forget our iPhone app!