Thousands more people in D.C. and Maryland are getting permits to legally carry concealed handguns. In the District it has nearly doubled since two years ago. In Maryland, nearly eight times as many permits were issued in 2022 as in 2021.
Numbers in Virginia have declined in recent years, but Virginia State Police report counties continue to issue twice as many permits every year than they did in 2017.
The I-Team's examination comes nearly two weeks after 13-year-old Karon Blake was shot to death in Northwest D.C. by a still unidentified man. The Metropolitan Police Department says the man had a valid concealed carry permit. A D.C. grand jury is still considering the case. No charges have been filed.
Calvin Wellington, CEO of Tactical Solutions Agency, a D.C. police-approved firearms trainer, told the I-Team his classes are full of people who go to him telling him they are scared of what they see in the news.
"This (getting a concealed carry permit) is the way they're going to try to fight back … The more crazy stuff we hear the world, the more clients are going to get," Wellington said. "That's literally how it works."
And recently, Wellington said his classes held at D.C.'s Security Associates are full several times a week.
"It is a very, very, very busy business," he said.
D.C. saw a 189% increase in permits between 2019 and 2022.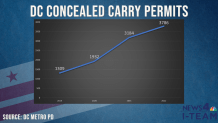 In D.C., when residents meet the District's requirements, including a class like Wellington's, D.C. police really have no choice but to issue a concealed carry permit. Police agencies and courts can no longer ask "why" someone needs a permit. That was removed by a court decision in late 2017.  D.C. residents must register their firearms with the department as well.
A Supreme Court decision last summer removed the limitation from Maryland law. It resulted in a near immediate spike in permits there.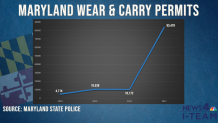 In Virginia, concealed carry permits spiked in 2018 after the same court decision that changed D.C. rules. While the number of permits issued statewide has fallen, it remains historically high.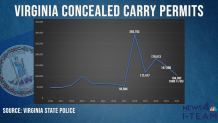 Wellington told the I-Team training students isn't solely about getting the most people through his class as possible. Education and safety are crucial components. He reminded the I-Team several times his goal of is to make sure students understand shooting the gun should be the last of several options.
"I want trained, knowledgeable people carrying guns," he said. "I think that's a smart thing."
Experts who study the trend of increasing permits aren't convinced putting more weapons in the community is increasing safety. A study released in September from the Johns Hopkins Bloomberg School of Health found a 9.5% increase in the average rate of assault with a firearm after laws were changed to make permits easier to get.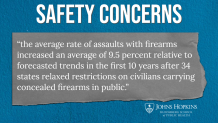 Study authors pointed out there are ways to mitigate the increase in violence, including preventing people convicted of violent misdemeanors from getting permits and requiring concealed carry permit applicants to have live-fire training before getting their permit – meaning actually firing a weapon.
A RAND Corporation review released this month found similar safety concerns that concealed carry laws like in D.C., Maryland and Virginia may increase total homicides.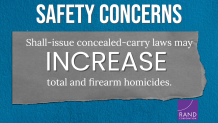 Researchers are split on why more concealed carry permits could lead to more violence. Permit holders are required by law to have training and clean records.
Researchers at Stanford Law School recently published work suggesting gun thefts rise as the number of concealed carry permit holders does. Gun thefts are linked to an increase in crime.
Reported by Ted Oberg, produced by Rick Yarborough and Katie Leslie, and shot and edited by Jeff Piper.