For Marisa Lopez, graduating in February as an officer with the U.S. Capitol Police was the culmination of a lifelong dream to be a cop. With her mom by her side, her retired police officer father pinned on her badge.
"I could see his eyes were welling up, and then mine were, too," said Lopez, who moved from Florida to join the force.
She's one of roughly 100 new officers the USCP has added this year – an enviable achievement as police departments across the country and in the D.C. region work to rebuild rosters decimated by retirements, resignations and lackluster recruiting.
Many departments are turning to large signing bonuses just to get applicants in the door. Lopez, however, said she didn't care about the lure of bonus money when she decided where to apply.
We're making it easier for you to find stories that matter with our new newsletter — The 4Front. Sign up here and get news that is important for you to your inbox.
"I glanced at them … but it wasn't the thing that tipped it over to me making a decision," she told the I-Team. "I was more worried about getting a job and getting my footing."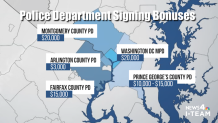 Though the USCP doesn't offer a bonus to entry level officers, an increasing number of departments in the D.C. region do, with bonuses ranging from $3,000 in places like Arlington County to as much as $20,000 in Montgomery County and the District. Many places only began implementing such bonuses in the past year.
Local
Washington, D.C., Maryland and Virginia local news, events and information
An I-Team review of recent hiring data shows mixed signals about whether the incentives are or will pay off.
In Prince George's County, data shows hiring has steadily increased since the county approved $3,000 signing bonuses for all new recruits in late 2021, eventually increasing the amount to $10,000 for entry level officers and $15,000 for experienced officers.
Data shows the department hired 44 officers in fiscal year 2021 and 58 in 2022. A spokesman for the department told the I-Team it's already hired 36 officers so far this fiscal year, with a goal of graduating a class of 40 by year's end.
Hiring is also up in Fairfax County, which added 98 people in sworn positions last year – an increase from 89 in 2021.
The I-Team found it's now on pace to exceed last year's hiring totals since its $15,000 signing bonus was approved last fall. According to a spokesman, the department has hired 37 so far this year with another 23 expected to start in coming months.
In D.C., Police Chief Robert Contee III said during a February council hearing the money has helped some, but data shows it hasn't been enough to off-set resignations and retirements.
In the first four months of this fiscal year, data show the Metropolitan Police Department added 61 officers but lost 141.
The result of the crunch, Contee said, means officers are each answering more calls and taking longer to do it. Response times in 2022 were one minute and 40 seconds longer for the most serious calls than they were in 2019, he said.
He told Ward 6 Councilman Charles Allen he doesn't expect to hit MPD's hiring targets, even with the five-figure bonus now in place.
"I'm very concerned about it. You know, we got our other surrounding jurisdictions with a lot of the same incentives in place. I'm very concerned about not being able to safely hire in that space," he said, adding he's unwilling to compromise on hiring standards.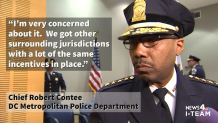 An I-Team analysis found many departments in the D.C. area are smaller than they were two years ago, part of what experts call a nationwide staffing crisis that began in the wake of the police killing of George Floyd and other high-profile incidents. The staffing shortage has been exacerbated as post-9/11 recruits have begun retiring and low unemployment has sent potential new recruits looking elsewhere.
"It is a nationwide crisis," said Chuck Wexler, the executive director of the Police Executive Research Forum. "If you pick up the phone and you call San Diego, Los Angeles, Houston, New York City -- they are all looking for the same thing. They are looking for cops."
Wexler told the I-Team it's too soon to know whether hiring bonuses will be enough to help police agencies rebound and doubted any recruit motivated by the bonus would last. But he also said most departments can't afford to not offer them.
"You have, in terms of hiring, big problems; in terms of retention, big problems," he said, adding, "You don't have the luxury of deciding what's best."
Fairfax Deputy Police Chief Brooke Wright also said it's too early to know just how big a difference her county's $15,000 signing bonus will make.
In the meantime, her department is holding targeted recruitment events as part of an outreach to specific communities. For example, Fairfax is among the departments participating in the nationwide "30x30" initiative to increase the number of female recruits to 30% by 2030.
"We just want a good person who wants to do right," she said. "We'll make a cop out of them when they get here."
Reported by Ted Oberg, produced by Katie Leslie and edited by Jeff Piper. Photographer Anthony Pittman contributed to this report.