After a box of ammunition was found Wednesday morning in a Culpeper County High School bathroom ceiling, hundreds of students hunkered down inside the school, having been told to "stay in place."
One 17-year-old senior, who happens to be the son of Culpeper Sheriff Scott Jenkins, did not.
Two law enforcement sources close to the incident and a high school parent confirm to the News4 I-Team the 17-year-old boy left the school during the three-and-a-half-hour stay-in-place order, grabbed a sheriff's office tactical vest from his truck and joined the sheriff's office response inside and outside the school.
It's unclear who directed him to do so or why.
We're making it easier for you to find stories that matter with our new newsletter — The 4Front. Sign up here and get news that is important for you to your inbox.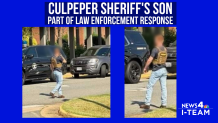 Virginia law says any law enforcement officer, including sheriff's deputies, must be 18 years old and have a high school diploma or equivalent. If the boy was in school Wednesday morning, it's unlikely he has that.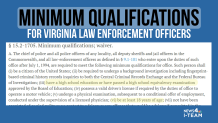 Culpeper sheriff's personnel records obtained by the I-Team earlier this year show the son is employed by his dad's department.
The same documents show he started last summer and earns $19,000 per year -- all while still in school. The sheriff's office would only confirm Wednesday that two employees share the same first and last name of the sheriff's son.
A spokesperson for the Culpeper Sheriff's Office told the I-Team, "We had numerous support staff on scene and all were in some type of CCSO attire so they could be identified as they assisted during the incident."
The I-Team's further questions about why the sheriff's son was there were not addressed.
As for the incident itself, it was wrapped up by 2:05 p.m. after law enforcement swept the building.
In a statement, a school spokesperson told the I-Team, "One of our staff was performing his daily restroom checks and noticed a dislodged ceiling tile, which prompted a look into the ceiling where he found a box of ammunition. This discovery led to the threat response. School officials worked with law enforcement to ensure safety. The law enforcement response included a K-9 sweep of the entire building, which required the continuation of the 'stay in place order' to safely complete the event. No other dangerous objects were found."
The school district sent a text to parents Wednesday night saying, "Out of an abundance of caution there will be an increased law enforcement presence on the campus of Culpeper High School tomorrow."
Reported by Ted Oberg, produced by Rick Yarborough, and shot and edited by Jeff Piper.