UPDATE: Members of the Maryland state legislature are urging the Prince George's County School District to overhaul the rules for how board members use their taxpayer-funded credit cards, in the wake of an investigation by the News4 I-Team.
Del. Alonzo Washington (D-Hyattsville) said he'll consider introducing legislation in January to prohibit the district from issuing credit cards to its board members. Washington said the use of those taxpayer-funded credit cards for meals and local hotels, detailed in the I-Team report, is a concern for his constituents. Washington said,
"They want us to do something about it," Washington said
Washington said he'll await the completion of an internal audit review of board credit card policy by the district before deciding whether to formally introduce the legislation.
"I'd want to see significant changes," he said.
Del. Barbara Frush (D-Beltsville) said the district should consider cutting up the credit cards on its own.
"It's a huge mistake for them to use the cards so freely for meals," Frush said. "I'm clearly concerned when public money is used for private purposes."
Maryland Lawmakers Urge Action on PGCPS Board Credit Cards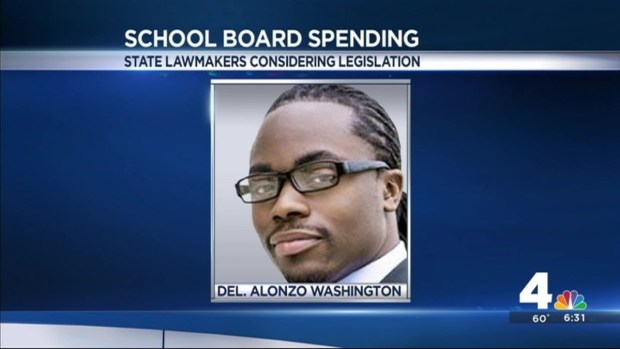 ---
Prince George's County school board members have spent several thousand dollars on more than 120 meals at restaurants near school district headquarters – including room service breakfasts, dozens of seafood dinners and private lunches – at taxpayers' expense in recent months. Many of the meals were purchased by two of the 14 board members, according to a review of expense receipts by the News4 I-Team.
The I-Team's review of school board expense receipts shows board members regularly use taxpayer-funded credit cards for sit-down meals together at seafood restaurants within minutes of their official meeting room in Upper Marlboro. The meals frequently included appetizers, dessert and $30-per-dish entrees. Taxpayer advocates and district parents said the expenses are unnecessary and a misuse of county school funds.
County school board policy allows board members to spend up to $7,000 per year on meals and travel-related purchases, but it does not limit the size of any individual meal expense. Board members said meals for board business meetings are permitted and justifiable. But the I-Team review found, in multiple instances, board member Carolyn Boston expensed local meals eaten with no listed guest, including room service expenses and a $20 lunch at Olde Towne Inn in Upper Marlboro in August 2013. She justified the Olde Towne Inn expense on her expense receipt, writing "lunch between school visits."
Boston and her colleagues frequented the Olde Towne Inn, a local institution within minutes of district headquarters. She expensed two different restaurant meals in one day, a $40 lunch at Olde Towne Inn and a $70 dinner at the Copper Canyon restaurant in Lanham on March 12.
A further review by the News4 I-Team found large out-of-town meal expenses, paid for with county-issued board member credit cards. In at least one instance, an official meal expense by a board member included the purchase of alcohol. A county administrator ordered the board member to reimburse taxpayers for the drinks, but not the food.
Prince George's County School Board Receipts
Board members Verjeana Jacobs and Carolyn Boston combined for the largest number of meal expenses, according to the district's expense receipts, in several cases for meals with each other. Jacobs frequented Jerry's Seafood restaurant in Bowie, where multiple meals exceeded $40-per-person, including meals purchased on back-to-back days in the fall of 2013. Meal receipts obtained by the I-Team include a handwritten reference to the reason for the meal, including references to "budget", "summer school" or "board structure."
Both lunch and dinner meetings at Maryland restaurants were expensed to taxpayers by Jacobs on Jan. 24. Jacobs also used her district credit card for a $100 dinner at an Italian restaurant during a board trip to Detroit.
Jacobs spent more than $2,500 on about 50 local restaurant meals since the beginning of 2013, according to the I-Team review. Boston spent more than $3,000 on restaurant food during the same time period, including a $29 room service eggs dish, while staying at a hotel at nearby National Harbor.
Prince George's County School Board Members Spend Thousands on Meals at Taxpayers' Expense
Boston, in an interview before a recent school board meeting, said it is proper for her to use her district credit card for meals, even meals eaten alone.
"We're here doing the work, meeting with people and working with the community," Boston said.
"I just don't see why (the expenses) are needed," said Juanita Miller, a community activist and Prince George's County NAACP member. "That's something that could go toward workshops, community outreach, even sponsoring students for community events."
Jacobs said not all of the expensed meals were eaten by board members alone.
"We also meet with constituents and board members from other areas," she said.
Several of the receipts obtained by the I-Team show Prince George's County residents and neighboring school officials are listed on some of the meal expense receipts.
The board's use of taxpayer money for local hotel rooms is also raising concerns about taxpayer advocates. Several board members expensed overnight rooms at the National Harbor Westin Hotel for recent board retreats, despite the close proximity of the hotel, about 30 minutes, to district offices. The rooms were paid for by the district's general fund. One board member also expensed a hotel room at the Washington, D.C., Hilton for a February conference, though a school spokeswoman said the board is seeking reimbursement for the room from conference organizers.
Local hotel room reservations are not a proper use of taxpayer money, Miller said.
"They could've caught the Metro, she said. "They could've gotten up earlier. If (meetings) involve staying up late, make arrangements to catch a cab."
Jacobs also charged taxpayers for valet parking services while staying at the National Harbor hotel.
Prince George's County Public Schools attorney Demetria Tobias told the I-Team it was acceptable for board members to stay at local hotel on the taxpayers' dime. She cited an "early start and late endings" of the meetings at the board's event.
Regarding the valet expense, "Board member Jacobs arrived at the board retreat very late in the evening – well after 10 p.m.," Tobias said. "She parked and was told by hotel staff that she would be ticketed or towed. The valet offered to park her vehicle (as included as hotel guest). The valet specifically told her that it was only because she was staying at the location."
Jacobs said she would consider revisions to the school district's policies for credit card use.
"I think there's always room for looking at what can be improved," she said. "That's always the case. As board members, we have a responsibility to our taxpayers to do that."
Boston said meeting meals are important because board members do not have individual offices at county school district headquarters.
Prince George's County Public School board members earn $18,000 a year for their board service. The board chairman earns $19,000.
"It doesn't take a PHD to know that these numbers don't add up and that the Prince George's County school board members shouldn't be using taxpayer-funded credit cards for expensive meals," said David Williams, president of the Taxpayers Protection Alliance. "Economics and Commonsense 101 tells us that this is a waste of money that must be stopped immediately."
Tobias sent the I-Team the following statement:
In accordance with Section 1003(b) of the Education Article, Annotated Code of Maryland and Board Policy 9354, Board of Education members are allotted $7,000 annually for reimbursement towards travel expenses, as well as other expenses incurred during a single fiscal year. The Board of Education and the Office of Internal Audit have established processes that provide for oversight of incurred costs and proper reimbursement for unallowed expenditures.

The Board Chair, Dr. Segun Eubanks, has requested the Office of Internal Audit to revisit policy and guidelines to clarify any ambiguous language. This is no way implies that Board members have used their credit cards inappropriately, but it does indicate that the Board of Education wants to maintain the highest level of integrity and accountability within its fiscal system.