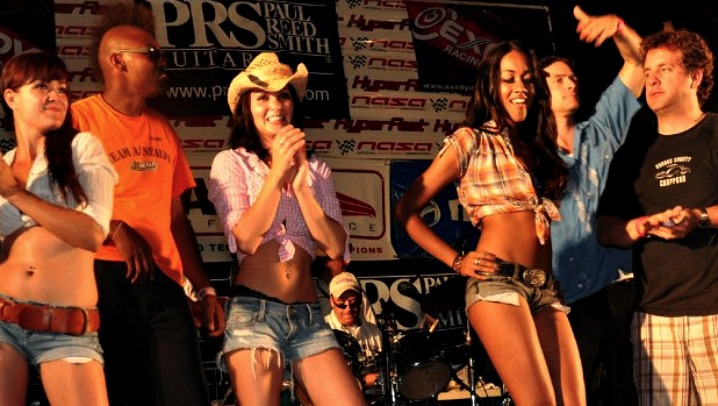 It's going to be hog wild (Sorry. Really.) at the fifth annual Beer, Bourbon and BBQ Festival this Friday and Saturday, March 23-24. Normal 0 0 1 244 1393 11 2 1710 11.1539 0 0 0
We're thinking that -- considering the 60 types of beer, 40 bourbons, plus scantily clad Daisy-Dukes-and-boots girls walking around -- this might not be a family-friendly environment, but it sure looks like a good ol' time for those 21+.
Admission to the event buys you a sampling glass for the unlimited beer and bourbon tastings, which means you may want a designated driver for all the, ahem, fun you'll have. Brewmaster, pit master and master distiller seminars will be provided, along with live bluegrass music on the main stage and even a cigar tent for all guests.
Barbecue-eating contests will pit contestants against each other for a chance at $200 cash prize, while the Daisy Duke throwdown will put all those years of women fighting for equal rights under the rug for a short time while women get judged by their appearance. Whee. The winner gets a redneck-sized beer mug and $200 cash... and yes, it's really called a redneck-sized beer bug.
You'll find it all at the Timonium Fairgrounds (2200 York Road, Timonium, Md.), about 75 minutes north of downtown D.C.
The Whole Hog session is Friday from 5:30 to 9:30 p.m., and limited to 1500 guests. You'll get a barbecue dinner and all-you-can-drink beer and bourbon.
The VIP session is Saturday from noon to 6 p.m., and includes a barbecue sauce challenge, the tasting theater and other special surprises.
Prices range from $35 for a regular day session to $85 for a two-day pass.