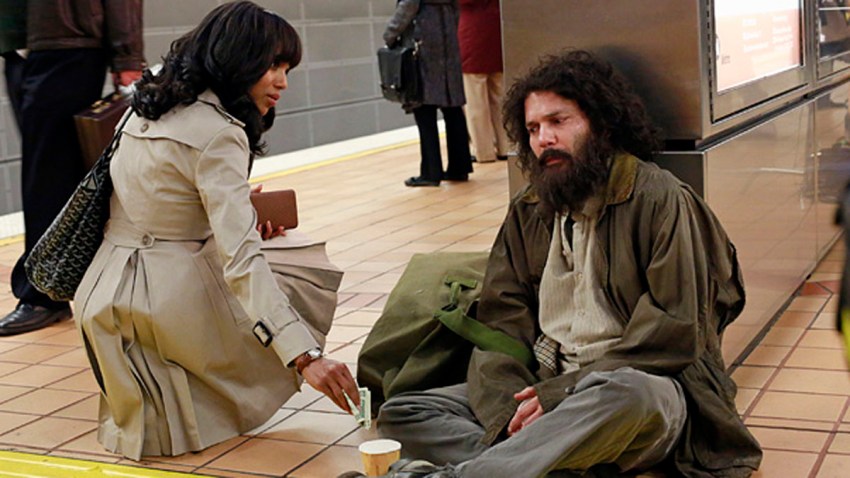 Home of the National Mall and the White House, our nation's capital is a perfect location for anything from political dramas to satirical comedies. But most TV shows and movies set in D.C. are filmed far, far from the District.
And that shows.
Some use green screens and CGI, others barely cover up that they are shot in entirely different cities ("Homeland," did you think we couldn't see that street sign?)
The Scene
The most fun things to do and places to be in D.C., Maryland and Virginia
Here are nine TV shows and movies have done the worst job of faking D.C. (Did we miss one? Tell us in the comments!)
"Scandal"
Olivia Pope rules the District of Columbia ... or does she? We watch Olivia and her white pantsuits strut past the White House every Thursday evening. Or, more accurately, we watch the "fixer" stand in front of a green-screen in Los Angeles. Olivia Pope and Associates' ever-bustling office borrows its exterior from the Palace Theater in downtown L.A. and interior from the Sunset-Gower Studios, according to Seeing-Stars.com. Olivia's scandalous scenes conspiring with Cyrus outside of the "White House" are filmed in the Rose Garden in L.A. Jeez, is Olivia's famous red wine and popcorn even real?! (Hint: No.)
"House of Cards"
Who could forget the jaw-dropping Metro scene in the Season opener? Even so, we were less shocked by what Frank Underwood did to a young reporter than by the fakiness of the location. Yes, the show may have tried to divert our attention by adding construction work familiar to any D.C. metro rider, but the "Cathedral Heights Metro" stop does not exist. Neither does Freddy's BBQ Joint, much to our collective tastebuds' disappointment.
"Homeland"
The allegiances of "Homeland" are questionable at best. It's hard to forget that the Showtime series was shot in Charlotte, N.C. when characters are shown in front of a large "North Tyron Street" marker, identifying one of the main drags in the North Carolina city. Plus, there are now some gorgeous new skyscrapers around the Department of State, and that mauve Metro stairwell must be a new design we've never heard about. And Farragut Square now has a parking lot? Well, you've got to keep extra cars off the streets somehow; how else would Carrie get from Georgetown to Bethesda -- and back again! -- in only 15 minutes? One last nitpick: Prior to Season 4, Carrie lives in a complex of garden townhomes. That's believable in Fairfax County, sure, but she claims to live in Adams Morgan. We may need her to take a lie-detector test.
"Veep"
"Veep" places us in world we couldn't help but love, with Julia Louis-Dreyfus in power as vice president. Funny, yes; believable, no. Even less believable is Season 1, Episode 2, when Dreyfus' character Selina Meyer goes to a frozen yogurt shop on "U Street." The shop has been owned by a family for three generations. This backstory seems slightly far-fetched for the District's quickly changing real U Street, and the scenery is worse -- resembling SoHo, Baltimore (the true location), or basically any other city more than D.C.
"Bones"
Viewers don't have to be forensic anthropologists to realize "Bones" feigns its supposed D.C. location. The Royal Diner in "D.C." frequented by the characters looks delicious, but is actually in a Fox backlot studio. Plus, there was a nasty bit in 2010 when the show compared Anacostia to Kabul and "the surface of Venus." Not cool.
"NCIS"
Yet another mystery easily solved. "NCIS" focuses on special agents based in Washington, D.C. If these agents were truly in charge of protecting the nation's capital, start packing your bags now, as they are nowhere near D.C. There are mountains visible in the distance, points out a commenter to NBC Washington's Facebook page.
"White House Down"
Jamie Foxx portrays the President left to the protective biceps of Channing Tatum while the White House is under attack. Yet, the filming was primarily -- and somewhat ironically -- done in Canada.
"True Lies"
James Cameron's 1994 spy-flick "True Lies," starring Arnold Schwarzenegger, used creative license upon creative license. Schwarzenegger rides his horse into a "D.C." hotel that is actually the old Ambassador Hotel in L.A., and exits onto the "Key Bridge," which is once again in L.A. There is a lot of ridiculousness in the movie, but the fake D.C. certainly stands out.
"Die Hard 2"
"Die Hard 2: Die Harder" took its title literally when it comes to geographical mistakes. John McClane (Bruce Willis) steps into a Pacific Bell payphone booth at Dulles airport. Pacific Bell is a West Coast phone company; Dulles is right outside of D.C. This one is almost too easy.