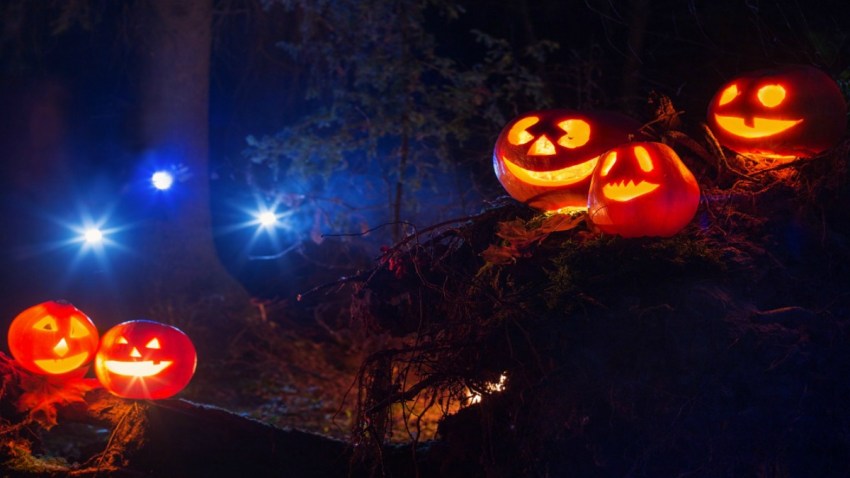 Are you tired of haunted houses or trick-or-treating? Venture out of the box and check out these events to make your Halloween week full of spooky fun around D.C., Maryland and Virgnia:
Blood and Guts Run (7700 Bull Run Drive, Centreville, Va.) -- On Saturday, Oct. 25, fight your way through this obstacle course to reach the finish line. If you can survive being chased by bloody zombies, you'll receive a Blood and Guts Run T-shirt and finisher medal. When the race is over, enjoy live entertainment, wild costume competitions and food trucks. Race begins promptly at 9 a.m.; new races start every half hour; prices vary; see registration website for more details.
Night on M Street (Dupont Circle area) -- On Saturday, Oct. 25, party all over Dupont for the 15th annual bar tour. Take your pick 30+ of Dupont area's hottest bars for drink specials and, of course, go dressed in costume. Did we mention there's no covers all night long, as long as you register first? Register from 5-10 p.m.; registration fee is $20.
The Scene
The most fun things to do and places to be in D.C., Maryland and Virginia
The Haunted Washington Scavenger Hunt (White House Area) -- On Saturday, Oct. 25, grab your flashlight and your team of up to six people to solve the tricky questions about the spooky places you'll visit. You just may see the spirits of Thomas Jefferson, Abraham Lincoln and other lingering ghosts. Hunt begins at 6 p.m.; adult admission is $22.50.
Goodwill Gridiron Halloween Party (7000 Arundel Mills Circle, Hanover, Md.) - On Monday, Oct. 27, have some scary fun while giving back to the community. Head out to Dave & Busters and enjoy an open bar, dancing, a silent auction and more. The Baltimore Ravens' Dennis Pitta, Justin Tucker and Brandon Williams will be hosting this event. Proceeds from auctioned items will benefit Goodwill Industries of the Chesapeake. 7 p.m.-midnight; tickets are $150 for individuals and $250 per couple.
17th Street High Heel Race (17th Street NW, between P and S streets NW near Dupont Circle) -- On Tuesday, Oct. 28, watch hundreds of drag queens strut down 17th Street -- in stilettos, of course. This annual block party will last for hours. Parade begins at 7 p.m.; the race starts at 9 p.m.; admission is free.
Day of the Dead Skull Painting (1728 Connecticut Ave. NW) -- On Wednesday, Oct. 29, delve into Mexican culture and celebrate this unique holiday. Honor loved ones who have passed and create your own sugar skull painting with bright, bold artwork. 7-8:30 p.m.; admission is $36 plus fees.
Night of the Living Zoo (National Zoo) -- On Thursday, Oct. 30, take part in a costume contest, listen to live music and performance artists, and play glow-in-the-dark lawn games at this annual zoo event. After getting an airbrush tattoo, you can roam the zoo during the witching hours. 6:30-10 p.m.; tickets begins at $20; see website for more ticket prices.
Halloween Live Thriller Night (7002 Arundel Mills Circle #7777, Hanover, Md.) -- On Halloween night, take it all the way back to Michael Jackson's "Thriller." Moonwalk your way to Maryland Live! Casino, and watch Who's Bad, a Michael Jackson Tribute Band, as they pay homage to the King of Pop. Event begins at 8:30 p.m.; admission is $20.
Boo Cruise (departs from 600 Water St. SW) -- Board the Spirit of Mount Vernon and cruise down the Potomac on Halloween. Enjoy DJ entertainment and spooky late-night views of D.C. under the moon. 9 p.m.- midnight; admission is $44.90; passengers must be 21+.
The Halloween Circus (Black Cat, 1811 14th St. NW) -- If you're looking for a unique Halloween experience Oct. 31, go see what the Black Cat''s Halloween Circus has to offer. Enjoy visual arts performances, slideshows, and Burlesque performances on Halloween night. Begins at 9 p.m.; admission is $12-15; must be 21+.