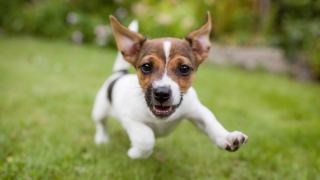 While you're sitting around moping about your favorite team not making it to the Super Bowl, Uber will deliver puppies to your door to cuddle this Wednesday.
Once again this year, Uber and Animal Planet's Puppy Bowl are teaming up to deliver a squad of puppies to your home or office this Wednesday for a $30, 15-minute "puppy playtime." Both Uber and Animal Planet will support the participating shelters and rescues in several cities offering the service.
The best part? You don't have to give all the puppies back. In most cities, the puppies are eligible for adoption. In D.C., you'll be able to adopt from the Washington Animal Rescue League.
Last year, more than 70 puppies were adopted during the Uber Puppy Bowl. This year, the companies hope that every eligible puppy will be adopted.
How To Get Your Puppy Fix:
Open the Uber app between 11 a.m. and 2 p.m. Wednesday.
Enter "PUPPIESDC" to unlock the special "PUPPIES" option.
Request the "PUPPIES" option in the app.
Once the puppies arrive, you'll have 15 minutes to enjoy playing with the pups. Tip: Make sure to have an enclosed space ready.
Ask the representative assisting with your puppy delivery how you can adopt a pup!