Cherry blossom season is on the way, with the peak bloom dates forecast for April 3-6. The National Cherry Blossom Festival runs March 20-April 14.
Now's the time to start prepping for the big festival events, pick your favorite viewing spots and find other ways to celebrate the blossoms through art, music and food in D.C.
Avoid Crowds and Find Your 'Secret' Blossom Viewing Spot
Founders Park in Alexandria, American University, the U.S. National Arboretum and Foxhall Village are all places to enjoy the spring flora without the massive crowds. Scope out the map below or check out our full list here.
Visit the Cherry Blossom Pop-Up Bar
The third annual cherry blossom pop-up bar (1839 7th St. NW) is open and features nearly 90,000 individually placed cherry blossoms. The Shaw bar sells cocktails inspired by the flowers and ramen. It's open until April 21.
Cherry Blossom Pop-Up Bar Now Open in DC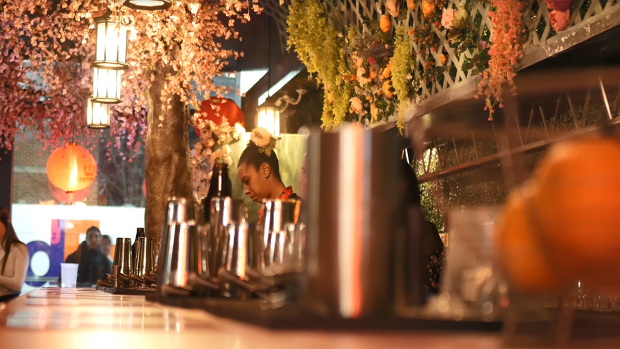 See Blossoms From the Water
Grab a paddleboat at the Tidal Basin ($18 for a two-person boat) or take a cruise. Odyssey Cherry Blossom Cruises ($64.90 for lunch, $77.90 for brunch, $114.90 for dinner) and the Spirit of Washington Cruise ($54.90 for lunch, dinner for $99.90) will take you around the Potomac River.
Look at Cherry Blossoms Though a Digital Realm
Surround yourself around interactive cherry blossoms in the new exhibit "In Peak Bloom" at ARTECHOUSE (1238 Maryland Ave. SW), opening March 20. Tickets range online from $8 to $16.
Attend Some of the National Cherry Blossom Festival's Key Events:
Pink Tie Party: March 22
Party in cherry blossom style at the annual Pink Tie Party at the Ronald Reagan Building and International Trade Center (1300 Pennsylvania Ave. NW). Tickets for the event cost $225 and will feature food and drinks from D.C.-area restaurants, dancing and more.
Cherry Blossom Opening Ceremony: March 23
This free event at the Warner Theatre (513 13th St. NW) features performances from around the world to kick off the cherry blossom season. Performances include a Sailor Moon live showmusic from Ikuko Kawai and The 6821 Quintet and more.
Blossom Kite Festival: March 30
Bring your own kite or let you child make a kite at the annual Blossom Kite Festival on the grounds of the Washington Monument (near 17th Street and Constitution Avenue NW). See the spring sky filled with colorful kites. This event is free.
Cherry Blast: March 30
See musician CeeLo Green at Cherry Blast, an event hosted at the MGM National Harbor. Tickets for the event start at $25 and include an open bar from 7-8 p.m. Curated by MGM Japan, VIP tickets cost $125 and include an open bar, sushi buffet, tonkatsu sandwiches, a cherry blossom-themed dessert buffet and mochi.
Petalpalooza: April 6
Hosted at the Wharf (1100 Maine Ave. SW), the Petalpalooza festival brings together art installations, games, activities, live music, fireworks and more on the waterfront. This event is free.
Newseum Nights: In Bloom: April 12
The Newseum (555 Pennsylvania Ave. NW) is hosting a party to immerse its guests in Japanese sights, cuisine and culture. You'll find an open bar, food from Wolfgang Puck and Japanese-themed activities. Tickets for the event range from $50 to $65.
National Cherry Blossom Festival Parade: April 13
Watch the National Cherry Blossom Festival Parade travel along Constitution Avenue from 7th to 17th streets NW. The parade will feature giant balloons, floats, a marching band, celebrity appearances and more. Grandstand seating for the event is $20 per ticket, but standing along Constitution Avenue is free.
Sakura Matsuri Japanese Street Festival: April 13
This street festival celebrates is the largest one-day celebration of Japanese culture in the U.S., according to the Cherry Blossom Festival organizers. The event will have Japanese vendors, food, drink, performances and more on Pennsylvania Avenue between 3rd and 7th streets NW. Admission is $13 for those older than 13 tickets are available online.